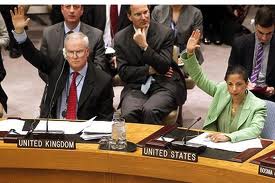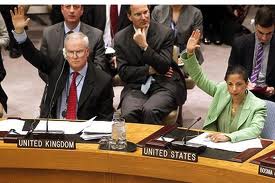 Thursday evening March 17, 2011, the U.N. Security Council voted for a no-fly zone in Libya. According to reports, the resolution establishes "a ban on all flights in the airspace of the Libyan Arab Jamahiriya in order to help protect civilians." It also authorizes U.N. member states to take "all necessary measures … to protect civilians and civilian populated areas under threat of attack in the Libyan Arab Jamahiriya, including Benghazi, while excluding a foreign occupation force of any form on any part of Libyan territory."
The vote late Thursday was 10-0 with five abstentions: Russia, China, India, Germany and Brazil. NPR noted that Russia and China, generally reluctant to authorize military interventions, both abstained rather than using their vetoes to block the resolution.
Reuters told of Gaddafi forces bombarding Misrata early Friday morning. The newspaper managed to speak with a rebel in the town who said that Gaddafi's forces were shelling everything, the houses, and the centre of the city. There was conjecture that Gaddafi wanted to take the city before the U.N. resolution is implemented.
France and Britain have said they are going to react swiftly now that the U.N. vote has been favourable to action. Benghazi reportedly erupted in a celebration at the news. However, Gaddafi's forces are still moving forward and no one knows exactly what the international community is going to do now that the U.N. resolution has been passed, who's going to do it and when.
Will the U.N. resolution change Gaddafi's plans? CNN reported that Gaddafi's son Saadi said on Thursday evening that troops will change their tactics and take up positions around Benghazi Saturday or Sunday and assist people fleeing from the city. He added there will be no large-scale assault. Instead police and anti-terrorism units will be sent into the rebel stronghold to disarm the opposition. This seems like a softening of the rhetoric coming from Gaddafi himself when he said he would show "no mercy" for the rebels.
The Washington Post wrote late Thursday evening: In a measured response to the vote that contrasted with threats earlier in the day by Gaddafi to "show no mercy" to the rebels, Libya's deputy foreign minister, Khaled Kaim, told reporters in Tripoli that Libya welcomed clauses in the resolution calling for protection of civilians.
But he cautioned the international community against arming the opposition, saying it would be tantamount to "inviting Libyans to kill each other." The intention of the Libyan armed forces, he said, was "to protect civilians and guarantee food and medical supplies."
Canadian Response
The CBC reported yesterday that Canada is expected to deploy six CF-18 fighter jets to help enforce the UN's no-fly zone. They added that it would take 24 hours for the planes to arrive at their destination which could be either Malta or Italy. Another 100 to 200 support personnel would be involved. Up to now, there has been no confirmation from the Defence Ministry.
Other Countries
Obviously the U.S. will be involved in some way. However, Wikipedia is listing Denmark, France, Great Britain, Ital, Netherlands, and Norway as also participating in this action. From the Arab community, the United Arab Emirates and Qatar are listed as willing to be involved.
Criticism
Despite the U.N. vote, this action is not without criticism. Some, like former United States Deputy Undersecretary of Defence, Jed Babbin, are calling this action an act of war. Russian NATO ambassador Dmitri Rogozin was quoted as previously saying that "a ban on the national air force or civil aviation to fly over their own territory is still a serious interference into the domestic affairs of another country."
The counter-argument from many is what happens if the international community does nothing? Gaddafi is well known for his ruthlessness; does everyone stand back and watch him do his worst? One could put forward that while this resolution is welcome, the international community has certainly dilly dallied and how many people have been killed, how much damage has been done in the meantime? Nero fiddled while Rome burned?
From a military point of view, people like Ivo Daalder, the U.S. ambassador to the organization, have previously questioned the effectiveness of a no-fly zone saying that controlling the use of helicopters would be difficult, if not impossible. On top of it, a no-fly zone would do nothing to stop ground forces. We now return to the wording of the resolution and how the implementation of the resolution will more than likely turn into what experts are calling a "no drive" zone where not only is Gaddafi's aerial forces are stopped, but his ground forces as well.
Now what?
As of this writing, Friday, March 18, 2011 at 8am EST, there are no reports of any outside action. Gaddafi forces are fighting for Misrata but no other country has entered the fray. Both France and Britain have publicly stated after the U.N. vote that action could take place within hours but that was over 12 hours ago. Considering Gaddafi's push, something has to happen soon.
Times News Online – Mar 18/2011
UNSC backs action against Gaddafi
UN Security Council has approved a no-fly zone over Libya as it passed a resolution authorising "all necessary measures" for protecting civilians there from Mummar Gaddafi's forces. Ten of the 15-member body voted in favour of the resolution which impose a no-fly zone and allow for bombing of targets inside the country.
http://www.youtube.com/watch?v=W5GHhke-r8I
The Associated Press – Mar 17/2011
Raw Video: Benghazi Celebrates UN No-fly Zone
Crowds celebrated early on Friday in the centre of the Libyan city of Benghazi, following the decision by the United Nations Security Council late on Thursday to impose a no-fly zone over Libya.
Click HERE to read more from William Belle
Article viewed at: Oye! Times at www.oyetimes.com