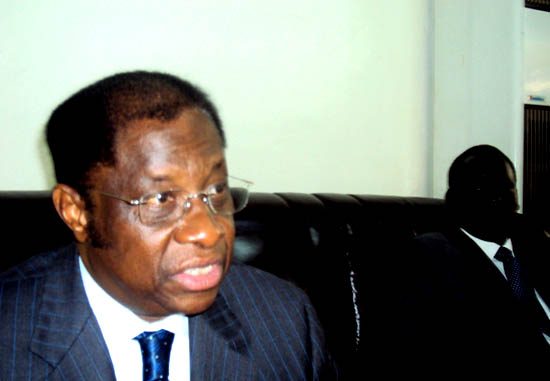 The Democratic Republic of Congo, (DRC) and the Republic of South Sudan have initiated a move to reform measures in order to flush out the Ugandan notorious Lord's Resistance Army, LRA in the region.
South Sudan Caretaker Minister of Regional Cooperation Hon. Deng Alor told Gurtong yesterday about the move shortly after a visit by the DRC Foreign Minister Alexis Thambwe Mwamba to Juba.
"Besides delivering congratulatory message from his President H.E Joseph Kabila, the Minister is to attend several meetings in Juba with authorities of the Government of South Sudan and States," Alor said.
His six days visit is also is to strengthen diplomatic ties with the new country on political and economic reforms.
A joint operation launched by the three countries of Uganda, South Sudan and DRC in 2009 to flash the LRA and bring their activities to end failed. The LRA has then spread from Uganda to Central African Republic, CAR and Sudan.
"His meeting is a very good opportunity for us to discuss a number of issues between the two countries…we want to strengthen our relationship," Alor affirmed.
Early this month, the South Sudan Minister of Regional Cooperation told the press in Juba that, the LRA has acted as one of the main factors in Western Equatoria and Bahr El Ghazal States hindering Agriculture. Its activities have contributed to the recent food insecurity in the new nation.
In an exclusive statement to Gurtong, the DRC Minister said that, "We would like to cooperate with South Sudan economically and politically as two neighbouring countries."
He stressed that, "we have strategized to stop the disturbance of LRA. It is a strategy that involves many countries under the leadership of the African Union: Congo, Uganda, and the CAR."
Alexis role in the meetings will be to strategize a reform on the 2009 joint "Thunder" operation" which failed to gun down the LRA while in Garamba Park, bordering point between the three countries.
Article viewed at: Oye! Times at www.oyetimes.com