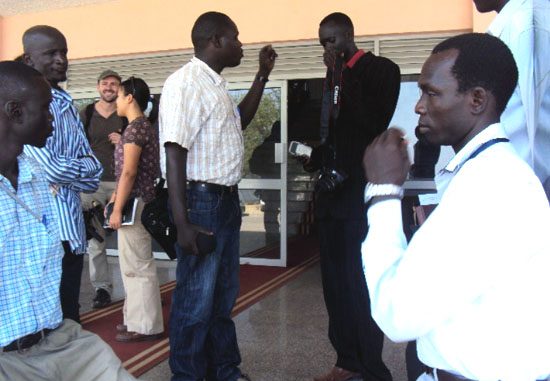 The South Sudan National Assembly (SSNA) yesterday ejected both national and international journalists from coverage on the grounds that they were deliberating on national security matters.
The house proceedings came to a standstill five minutes later when some MPs raised concerns that journalists should be expelled from the house as they were discussing sensitive matters.
A debate and commotion engulfed the August House for about fifteen minutes as Members of the Parliament became divided on the matter with many against the decision to oust the press from the House.
Hon. Gatwich Lam from Upper Nile State pointed that, the motion presented to the House summoning the officials according to the parliament regulations 42 of its code of conduct; it is a public issue and interest and therefore deserved media coverage.
"The motion which was presented to this house was an urgent and important matter. So it is for public interest. So any issue for public interest has to be known to the public. This is a security matter and it's cross cutting," Gatwich expressed.
In contrary, Hon. Daniel Awet; the SSNA First Deputy Speaker later ruled off the debates while using his powers without the House vote to order the journalists out of the House.
"Let me rule it out. Let the press move out. Press out," ruled Daniel Awet.
The Executive Appears Before SSNA on Security Matters
The South Sudanese Defense Minister, Central Equatoria State (CES) Deputy Governor and the Mayor of Juba City Council yesterday appeared before the South Sudan National Assembly.
The three senior government officials are part of the five summoned officials in the previous week by parliament to answer questions raised by the House on insecurity threats in the Country's capital Juba.
Parliamentarians questioned the officials to explain as to why Juba is not divided into zones as proposed by the past national assembly, no police stations in many of the Bomas, no night patrols despite the State holding a capacity of 3,000 policemen.
Other critical questions raised were whether the various foreign embassies in the country are aware of all their countrymen in the capital and South Sudan as many foreigners have been arrested and detained in Juba Police Station on insecurity grounds.
Mr. David Alemi from Morobo in CES also questioned as to why other senior officials from the executive and judiciary have their relatives as their body guards and not accorded official policemen? And why some other security agents like the soldiers keep their guns in their houses rather than in the barracks?