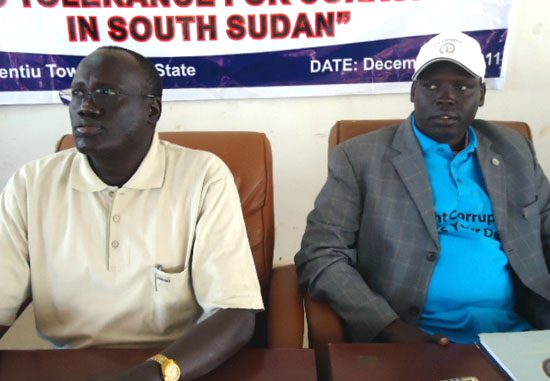 Unity State citizens joined South Sudan and the rest of the world in commemorating the International Anti-Corruption day held on 9th December yearly.
While delivering his speech, the Unity State Deputy Governor Mr. William Daud Riek said that, "There would not have been a better theme of the programme than what the Commission was set out to achieve in that noble endeavour "Zero Tolerance for Corruption in South Sudan" is therefore a most appropriate theme of all actions targeting the vicious acts of corruption that may be inherent in our society."
He stated that, the Government of Unity State has always been eager to engage in efforts to stamp out corruption from all the sectors of our economy, it should be noted that Unity State was the first State in South Sudan to put in place a State Anti-corruption Office (SACO).
"Corruption, in all its forms and manifestations, is a monster whose elimination must be supported by all development conscious people," Riek added.
"The initiative by the Government of the Republic of South Sudan to put in place a mechanism to fight corruption through Anti- Corruption Commission is a welcome idea whose time has come," he continued.
The State Anti- Corruption Director Mr. George Wal Mut said that, "without a coherent anti-corruption programme supported by a strong legal system, the Government of South Sudan would not be able to effectively fight corruption."
Wal stressed that, "our people would like to live in a corruption-free society where the delivery of Government services meets their expectations and is not hampered by sheer dishonesty. It would however, be difficult to achieve our development goals if our attitude towards corruption does not change."
According to various critics, the Unity State's Anti- Corruption Commission was formed early but its duties are not yet known by the public.