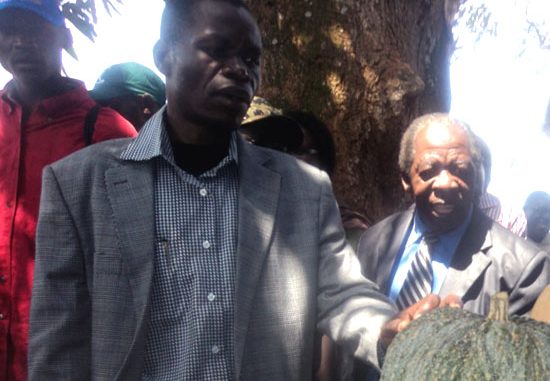 The Western Equatoria State (WES) Agricultural show organised by Ministry of Agriculture, Cooperatives and Environment ended yesterday at Yambio Freedom Square with Tombura County emerging victorious.
The show featured a competition in which Counties compete to show the best Agricultural products, Tombura County received the first prize and was awarded a new motorcycle. Yambio Nangbimo honey processing association came second and received a bicycle and big Panasonic music system while Ibba County was in the third position receiving a bicycle.
While delivering his speech, the WES Governor Hon. Bangasi Joseph Bakosoro appreciated the initiative and the farmers from the various Counties who positively responded following a mass campaign carried out at the beginning of this year.
Bakosoro said that the State government in collaboration with the Ministry of Agriculture will plan to reward the hard working farmers with vehicles as a motivation next time.
The Director General of the Ministry of Agriculture, Mr. Ahmed Labi said that the show was successful despite the limited period of time.
The show provided an opportunity for farmers to display their agricultural commodities, compete with each other, learn new ideas and acquire new skills from other farmers, exchange information, establish networks, discover markets and identify suppliers.
The Minister of Agriculture Mr. Charles Yore said, "the show will give an opportunity for the Ministry to learn about the conditions facing the farmers because farmers need empowerment and such will be done through the show.
The WES Legislative Assembly Speaker Mr. Bukulu Edward said that the Agricultural show should be done at the right time when farmers can show enough produces in order to compete with other States' farmers at National level.
Governor Bakosoro said that next year people should compete from the top government officials to the ordinary civilians in order to produce enough food.
Bakosoro advised farmers to use the right agricultural approaches and plan earlier before the rain season.
This is the first time an Agriculture show is conducted in WES bringing together farmers from the 7 Counties in the State.