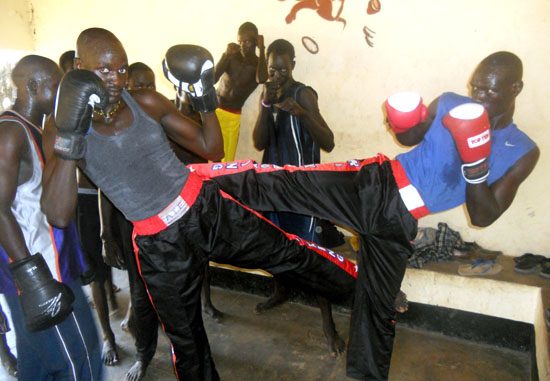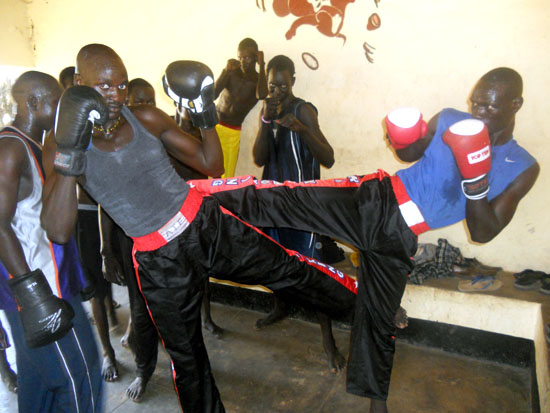 The South Sudan Kickboxing Head Coach Mr. Puro Okelo Obob is seriously preparing his team for the East African Kickboxing Championship in Juba, on the 6th of January 2012.
While speaking to Gurtong at the Kickboxing Training Centre in Nimera Talaata, Okelo said that the team is getting ready for the competition next Friday 6th January 2012 at Nyakuron Cultural Centre with 28 fighters including both the junior and senior teams who have been training since 2008.
"I invited Neno Eric, Nickolas, Abdul, Nasir, Onen and Golola Moses from Kenya. But Golola declined the offer saying he is still nursing his wounds. We want to challenge them and we are ready to face Uganda and Kenya. We are a young team who are determined to win and to prove that we are ready as a nation to fight for titles." Said Mr. Okelo
The South Sudan team includes Daniel Kouf, Chol Wiching, Micheal Getbar, James Koul and Ezekiel Reath. Puro said the team has high morale because of the speed they have in throwing punches which he said is key to any fight.
"We have speed that's necessary to win a quick fight," he boldly said.
South Sudan was represented in Uganda during the Intercontinental Kickboxing Championship on the 9th of December 2011 in Kampala, Uganda. One of the fighters Mr. Ezekiel Reath told Gurtong about his experience in the ring.
"I went to Uganda to fight and win for my country. When I entered the ring a lot of things entered my mind and I had to control and gather my skills. There are difficulties in there but as a man you need to be sharp in order to win," said Ezekiel Reath
The World Kickboxing Federation Chief Executive Director, Fritz Exenberger who was in Kampala last year in December welcomed South Sudan into the sport.
South Sudan Kickboxing Head Coach Puro Okelo Obob called for the government of South Sudan to cooperate with them to raise the sport to a higher level.
The are many talented Kickboxers in South Sudan but there is lack of training equipment to support the urge for the sport. The kickboxers' seem dedicated to the development and participation of the Martial Arts in South Sudan, they are willing to fight for their new nation.
"The best discipline to teach a fighter is to always be alert because the other opponent is likewise alert like him and is determined to win," Mr. Puro explained.
"The development of South Sudan sports is in our hands, I am one of those who want to develop South Sudan," said Okelo who is a third degree Black Belt expert in Karate, Professional Kickboxer 1995 World North American Full continental championship and now head Coach for Kickboxing in South Sudan.