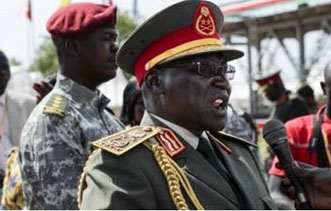 Former South Sudan army Chief, General Paul Malong Awan arrived Juba on Saturday afternoon days after he left the capital to Aweil following his sacking by President Salva Kiir Mayardit.
JUBA, 15 May 2017 [Gurtong]-His return follows assurance from the President of his security once he returns to the capital.
He was accompanied by the Governors of Gogrial and Eastern Lakes States and other community leaders from his home town.
Addressing the press at the airport, Malong said he was not planning to battle the government.
"I left this capital with no ill-intention. The intention was just in my heart to leave towards my home area, avoiding some matters that might occur if I am around," said Malong.
"If I want to rebel, I will rebel here and I was having guns here and these soldiers do not belong to anybody. Some belong to you and some belong to me, if I was planning to fight, I would have fought here," he added.
Malong however said he will travel to Aweil after finding out why he was asked to return to Juba. "I will again ask them to go back to my family home area…I want to go and stay at home not for any intention," he said.
"I want to live with my family if I am not asked to do anything for the nation, I should do something for myself," he added.
He urged citizens to remain calm as he has no intention to rebel against the government.