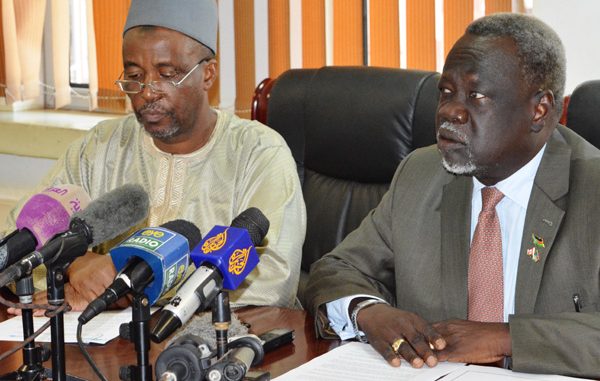 At least 15 children have died after taking a measles vaccinations in Nachodokopele village, Kauto County of Kapoeta State, according to the National Ministry of Health.
KAPOETA, 2 June 2017 – 32 other children from the same village suffered similar symptoms of fever, vomiting and diarrhea but recovered from it, said the Minister of Health, Dr. Riek Gai Kok in a press conference on Thursday.
He blames the incident on human error that led to contamination of the vaccines causing infections and deaths to the children.
A joint investigation in to the cause of the death of the children by the national adverse events following immunization (AEFI) committee, supported by World Health Organization (WHO) and UNICEF vaccines safety experts has concluded that severe sepsis/toxicity resulting from the administration of contaminated vaccines caused the event.
The report said that the vaccination team in the area were neither trained nor qualified for the immunization campaign.
The investigation team said the vaccinators did not adhere to the WHO-approved immunization safety standards.
"A single reconstitution syringe was used for multiple vaccine vials for the entire four days of the immunization campaign instead of being discarded after a single use."
"The use of the reconstitution syringe causes it to become contaminated which in turn contaminates the measles vaccine vials and infects the vaccinated children," said Kok.
The report said the vaccines were stored in a building with no cold chain facilities for four days.
According to Minister Kok, the vaccines were not maintained at the recommended temperature ranges to preserve their quality.
In the area, about 300 children were vaccinated in the mass measles vaccination campaign. Over 2 million children across the country were targeted for the vaccinations.
Kok said the ministry has commissioned a "multiagency administrative committee to review the report, and give appropriate recommendations for further actions to improve immunization service delivery."
He said the public should not panic because immunizations are safe but only the incident happened after unqualified people administered it.
He revealed that the ministry of health is investigating the county health department.
"Vaccination is one of the most basic and critical health needs in emergencies to protect populations from the risk of contracting deadly but preventable diseases," he said.
The minister noted that the risk of measles remains high because of the challenges being faced by the health system in the country.
He said the Ministry of Health, WHO and UNICEF regrets the incident which could have been prevented by adhering to WHO immunization safety standards.