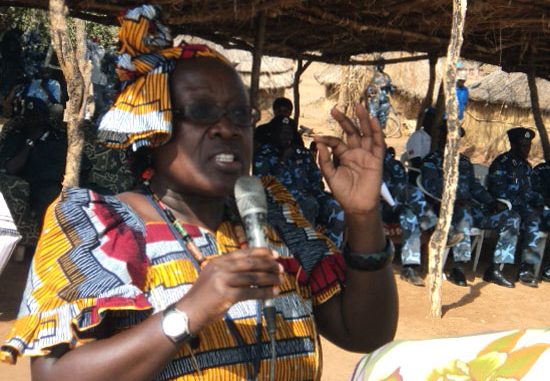 The United Nations Mission in South Sudan (UNMISS) team operating in Eastern Equatoria State (EES) has vowed to thoroughly collaborate with the EES Government so as to consolidate peace and build stability in the State.
Speaking during the graduation ceremony held at Himodonge of Torit County late last week where more than 500 State police graduated, the EES-UNMISS coordinator Madam Winnie Babihuga disclosed that UNMISS is stepping up efforts to help the State authorities to protect the most vulnerable communities and facilitate development progress by UN agencies along with other international NGOs.
She clarified that UNMISS trains not only State police but all law enforcement agencies like prisons in order to perform professionally by training their juniors including recruits on how to curb rising crimes and to maintain law and order as per the law.
Madam Winnie recommended that EES should be the first to benefit from the quick impact project because the State is considered as one of the most disadvantaged States in dire need of help.
Operating under Chapter VII of the UN Charter of the Security Council by its resolution number 1996 (2011) of 8th July 2011, the virtually established UNMISS, subsequent to the independence of South Sudan, has a number of mandates in the country like promoting a trendy political processes and national constitutional process plus ensuring participation of women in decision-making forums of the Government of the Republic of South Sudan.
State Governments are not exceptional, Madam Winnie notes that in order to create stable, conducive environment for wealth creation by the people of South Sudan and overseas partners, the national Government through NGOs and UN partners should continue to enhance the capacity of law enforcement agencies so as to effectively guarantee the safety and security of the people in the Country.
The EES Governor, Hon. Louis Lobong Lojore saluted the UNMISS' support to his State and beyond to realize peace stability. He said that the intention of re-training the police personnel is basically to help them put into action the State's strategic plan which according to him aims at ensuring peace, respect for human rights and the rule of law including good governance & democratic practices.