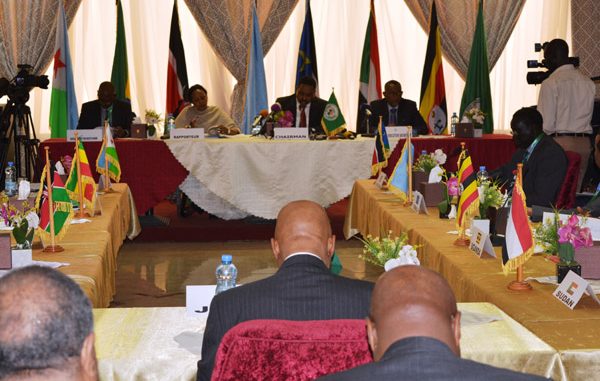 The Council of Ministers of the Inter-Governmental Authority on Development (IGAD) is expected to review the progress made and revitalize the peace process in the country, at the end of its 58th Extra-Ordinary Session being held on Monday in Juba.
JUBA, 24 July 2017 [Gurtong]-The Council consulted with various stakeholders including representatives of the international community, faith-based organizations, eminent persons, youth and women, the civil society and the private sector prior to its deliberations on Monday.
Briefing the council on the current situation in South Sudan Festus Mogae, Chairman of the Joint Monitoring and Evaluation Commission (JMEC) said the revitalization process must address the current political situation.
"The revitalization process should address current political realities in South Sudan and this forum must focus on current issues," he said. "The forum should examine progress made in implementing the peace agreement, in the context of current situation, determine impediments to further progress and seek concrete proposals to resolve those impediments."
"It is equally fair for the revitalization process to seek ways in which key actors can be identified and engaged, or reengaged in the interest of successfully achieving our objectives, more particularly the restoration of the permanent ceasefire," he said.
The Chairman of IGAD Council of Ministers, Workneh Gebeyehu, said the people of South Sudan should embrace the revitalization forum without any conditionality for the successful implementation of the peace agreement.
He said the revitalization forum is not a fresh negotiation or a negotiation to implement the agreement, but rather an opportunity for all South Sudan stakeholders to return to the implementation of the peace agreement.
Gebeyehu said the deployment of the regional protection force is important, because it will build confidence and encourage the return to inclusive implementation of the peace agreement.
He calls upon the members of IGAD, the AU and the international community to give support for the revitalization forum, to enable implementation of the peace agreement.
Dr. Martin Elia Lomoro, Cabinet Affairs Minister who represented the Transitional Government of National Unity (TGONU) in the meeting said the country is committed in implementing the peace agreement.
"The TGONU leadership strongly believes that war is not an option, thus its entitlement to implement the agreement in letter and spirit, not discerning the enormous challenges it faces," he said.
He said the national dialogue, will complement the implementation of the peace agreement.
Lomoro also noted that the SPLM is in the process of being united given mediation by president Museveni of Uganda where the SPLM former political detainees and the SPLM in government have been meeting in Kampala to resolve their differences.
The IGAD council of ministers is expected to come up with measures to restore the permanent ceasefire, return to full implementation of the Peace Agreement and develop a revised and realistic timeline and implementation schedule towards democratic elections at the end of the transition period.