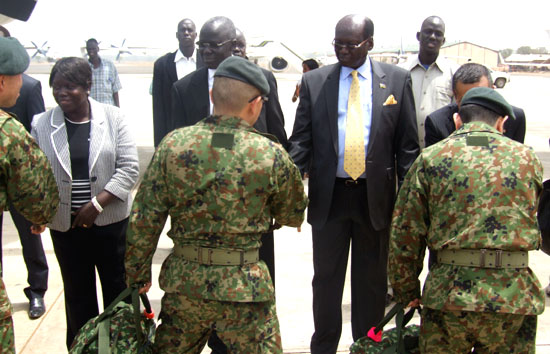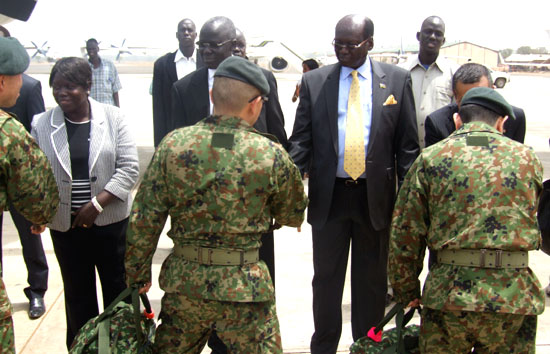 A group of 120 Japanese engineer soldiers arrived in Juba yesterday; received by the Minister of Information, Dr. Barnaba Benjamin Marial and the Minister of Roads and Transport, Gier Chuang Aluong along with the SPLM Deputy Secretary General Dr. Ann Itto at the Juba International Airport.
Dr. Barnaba assured the Japanese solders of security in the country even though he noted that there are a few security threats in some parts.
"On behalf of the Government of the Republic of South Sudan, I want to welcome you to South Sudan and assure of security despite few insecurity threats in the country," he said.
He also said that the Japanese army with specialty in engineering will contribute to the infrastructure development in the country.
Meanwhile the Japanese Ambassador to South Sudan, Akinori Wada said that Japan has been helping South Sudan for long and that his country is committed to doing its best for South Sudanese. He added that he was optimistic that the group of army engineers will do their best.
Hon. Gier Chuang Aluong also welcomed the Japanese to invest in the country and expressed confidence in the Japan's ability to build roads and bridges.
He added that the Japanese companies have built seven bridges in the country; adding that the companies will give them technical support and that he is optimistic that the team will add value to his Ministry.