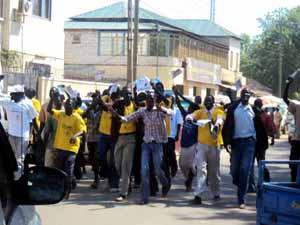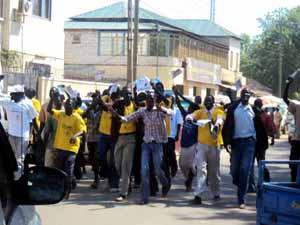 With just one day to the Southern Sudan referendum, the youth in Central Equatoria are not taking any chances that might derail the voting process.
Yesterday, hundreds of Munuki Payam Referendum Task Force took to the streets of the South Sudanese capital Juba to boost civic education and to drum up support for separation.
The group's chairperson Reverend Kenneth Gideon Dayak told Gurtong that the motive of the procession was to ensure that no South Sudanese spoils a vote come the polling day.
During the 2010 Sudanese general elections many voters spoilt their ballot papers and this is one mistake the youth are fighting to eradicate.
"Yes, as human beings we make mistakes but prevention is better than cure", said Rev Dayak.
Reverend Dayak urged all Southerners to be on the lookout for any people out to cause chaos during the plebiscite.
"We are also advocating for a peaceful conduct of the process", he said.
He added that a free and fair referendum solely depends on the commitment of the South Sudanese people.
The youth also commended Sudanese President Omar al Bashir for visiting Juba, saying it portrays his commitment and the National Congress Party (NCP) to ensure that the South decides freely.