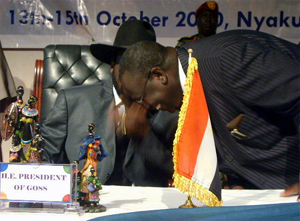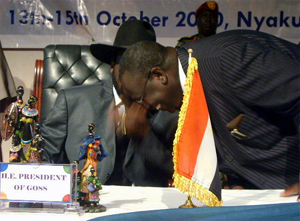 GoSS President Salva Kiir Mayardit has called for patience as vote counting for the Southern Sudan Referendum advances.
The president also urged South Sudanese to continue recognising the national tools and symbols of the Republic of Sudan, despite indications that the South will secede from the North.
"Don't attempt to bring down the flag of the Republic of Sudan in the South. I also urge you to respect the National Congress Party (NCP) and its offices based in South Sudan", Kiir told the congregation at St Teresa Cathedral in Juba during a Sunday service.
Kiir, who is also the SPLM Chairperson further called upon South Sudanese to accept the referendum results regardless of which side carries the day.
He also dismissed reports that South Sudan was arming itself in case the North rejects the results as "baseless and unfounded".
Voting in the Southern Sudan Referendum was concluded on January 15, after a week-long that saw close to 3.5 million voters cast their votes.
Last Saturday, the Chairperson of the Southern Sudan Referendum Commission (SSRC) Prof Mohamed Ibrahim Khalil told the press that preliminary results will be announced on January 31 with the final outcome being declared on February 14.