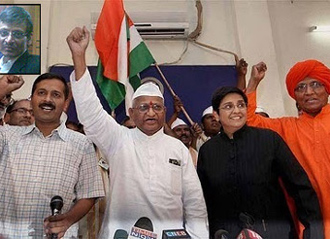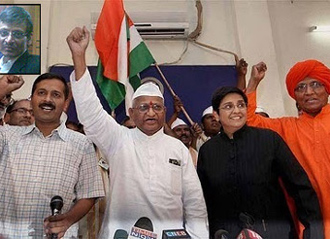 Team Anna has admitted that it received the support of Rashtriya Swayamsevak Sangh (RSS) in its movement for a strong Lokpal bill, albeit in a tactical fashion.
"The presence of supporters from RSS could not be ruled out, but they joined the movement as Indians who wanted to support the cause for a strong anti-corruption bill," said core committee member of Team Anna, Kiran Bedi.
Bedi, along with Arvind Kejriwal and Prashant Bhushan were addressing a press conference on Sunday at veteran Gandhian Anna Hazare's village Ralegan Siddhi. The trio had come to meet Hazare after the committee meeting on Saturday in Kausambhi.
The meeting with Hazare assumed significance after the allegations of corruption against Bedi and Kejriwal and the apparent fissures emerging in the team. Two members' waterman Rajendra Singh and activists PV Rajgopal have already resigned from the team.
Replying to the allegations of high handedness and financial irregularities levelled against Kejriwal and his NGO Public Causes Research Foundation (PCRF), Kejriwal said it was decided at the outset that his NGO would work as the secretariat of the movement.
He also said the team would be writing to the banks to return the Rs40 lakh donated to the trust for the movement from unknown sources.
Article Viewed on Oye! Times @ www.oyetimes.com