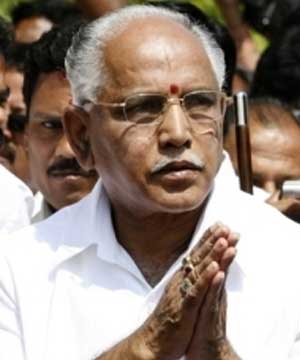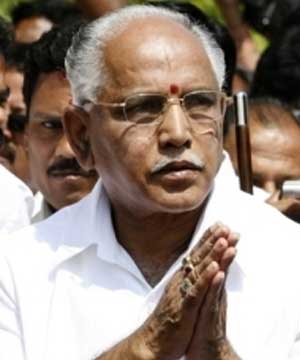 The Karnataka High Court on Wednesday granted preventative bail to state's former Chief Minister, B. S. Yeddyurappa in connection with the objection relating to alleged irregularities in de-notification of government lands.
Yeddyurappa's recommended Sandeep Patil has said that there was no question of judicial custody in the two cases in respect of his client. "In PCR (private complaint registry) 2 and PCR 5 of 2011, the honorable High Court today considered the anticipatory bail request filed on behalf of Yeddyurappa and other accused and it has found that since it is a scheduled based on private grievance and since in other two private complaints, the indicted are already on bail, regular bail as well as anticipatory bail, there is no question of judicial custody in respect of Yeddyurappa in these two cases as well as custodial interrogation is not required in these cases," he said.
Patil has further stated that the court had approved his client anticipatory bail on certain conditions such as not to tamper with the spectators and extend full cooperation in the proceedings.
"On these grounds, Yeddyurappa and others are granted anticipatory bail on certain conditions. One of the conditions is not to tinker with the witnesses and also to cooperate in the proceedings before the trial court," he added. Patil also declared that the others, who have filed a memo vis-…-vis PCR 6, would be considered by the court on Friday.
"With respect to PCR 6, after the point of view was concluded, the others said that I have now come out and filed a memorandum saying it has to be heard by some other judge and that is a legal issue to be again urged before the court and (the) court felt that it will be considered on Friday. After bearing in mind, essential orders will be passed," he said.
Yeddyurappa had earlier secured bail in two of the five private complaints regarding alleged illegal identification of government lands. Former Lokayukta Justice Santosh Hegde's sovereign inquiry into mining embeds in Karnataka had accused Yeddyurappa and other key officials for causing a loss of at least 160 billion rupees to the state exchequer between 2006 and 2010.
It is also alleged that Yeddyurappa used his position to favor his sons in the allocation of land in Bangalore. One acre of land at Rachenahalli was acquired by his family for Rs. 40 lakh and was re-sold to a mining company for Rs. 20 crore, resulting in a significant profit.
Yeddyurappa had tendered his acceptance on July 31 to Karnataka Governor Hansraj Bhardwaj, following allegation of dishonesty. The acceptance was accepted, and D. V. Sadananda Gowda appointed the chief minister.
Article viewed on Oye! Times at www.oyetimes.com