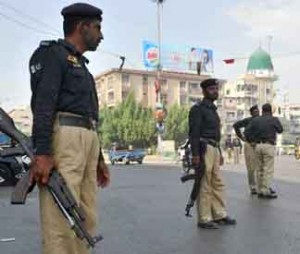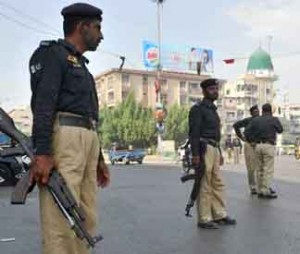 Karachi police arrested 5 terrorists of Jundullah group and recovered arms and hit a list.
Additional Inspector General of Police Sindh Ghulam Shabbir Sheikh said that arrested Jundullah terrorists include a Kamran, Salar Muhammad, Amjad, Farhan Khan and Munir. The accused had got freed terrorists Shakeel Farooqui, Murtaza Wazir and Murad from city court after assassinating 4 police personnel, he said. The arrested terrorists also had planted a bomb at Jinnah Hospital, which claimed lives of 19 people, and they separately looted Rs 8 million from hospital's cash van, Shabbir said.
Addressing a press conference, Additional Inspector General (IG) Karachi, Ghulam Shabbir Shaikh said the Special Investigation Unit (SIU) arrested five outlaws and thwarted a terror bid in the metropolis during Moharram-ul-Haram. He said these suspects arrived in Karachi from Waziristan and interior parts of Punjab and had plans to carry out terrorist activities during Moharram.
Police also recovered three bags full of explosives along with paraphernalia including detonating wire, detonators, and handguns, AK-47s etc. from a graveyard in Mominabad area of SITE Karachi. According to details a search operation against proclaimed offenders was underway in Mominabad and police were combing through a graveyard when theirmetal detectors picked up what turned out to be a large cache of explosives and weaponry buried in graves.
The police are still scouring the area in search of suspects. Mominabad police have registered an FIR 423/2001 in this regard and are further probing.
Article viewed on Oye! Times @ www.oyetimes.com