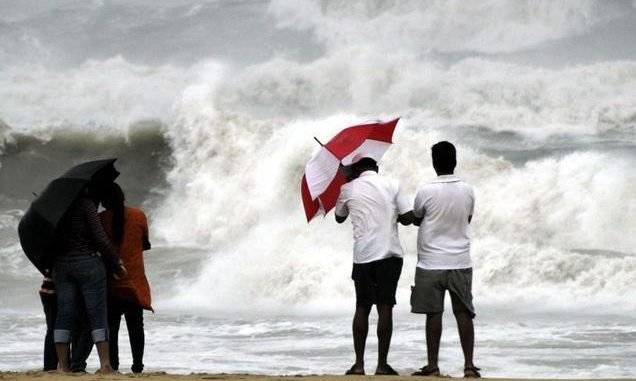 A severe cyclone discarded heavy rain and sent wind gusts up to 140 kmph after it hit the Tamil Nadu coast today killing at least 33 persons and left a track of destruction and threw life out of gear in Cuddalore district and connected Union Territory of Puducherry.
The cyclonic storm 'Thane' however left the southern Andhra Pradesh coast untouched after keeping everyone in the state on toes for the last two days. The two southern states were on high alert. Cuddalore, about 170 km from here on the east coast, bore the burden of the cyclonic fury, secretarial for 21 deaths, Puducherry(seven), Villupuram and Tiruvallur (two each) and Chennai(one)in rain-related incidents mainly wall crumple and electrocution, officials said.
The storm irritated the coast between Cuddalore and Puducherry transport in its wake heavy rains accompanied by gale that uprooted hundreds of trees and knocked electric poles, sudden power supply in several areas. Tamil Nadu Chief Minister, Jayalalithaa has said that the cyclone asserted 26 lives in four districts in the state and released Rs. 150 crore for immediate relief works.
The tiny Puducherry was cut off from adjoining districts in Tamil Nadu with the uprooted trees blocking road traffic. The cyclone has also interrupted rail and air operations with services cancelled or rescheduled. Flights to international destinations including the middle-east and Malaysia from Chennai were cancelled following the inclement weather.
Southern Railway has partially cancelled and rescheduled most of the trains between Chennai and southern districts. In Chennai, a cargo ship ran aground off Marina Beach with the sea conditions remaining rough. Sheet of water could be seen on the service road along the beach which was slashed by tidal waves.
Article viewed on Oye! Times at www.oyetimes.com.