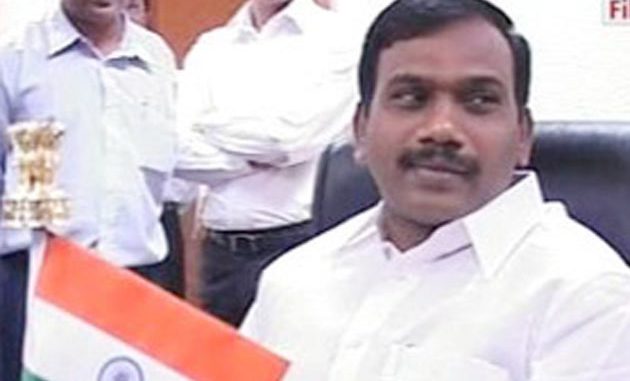 Former telecom minister A Raja, the prime charged facing trial in the 2G case, today has completed one year in jail since his arrest in the high-profile scam. Raja, who was the first one to be arrested in the case on February 2, last year, fades away behind the bars as he has not yet moved any application for release on bail.
Besides Raja, former telecom secretary, Siddharth Behura who too was arrested on February 2 last year is still in jail as his bail applications have been discarded continually by the trial court as well as the Delhi high court.
Barring Raja and Behura, all co-accused including DMK MP Kanimozhi, Raja's former private secretary RK Chandolia, Swan Telecom advertiser Shahid Usman Balwa and Vinod Goenka have earlier been arranged bail by the Supreme Court, Delhi high court and the trial court respectively.
The court on October 22, last year had surrounded charges against Raja and 16 others for offences including criminal breach of trust which entails a maximum punishment of life term.
The charges were framed under various provisions of the IPC and the Prevention of Corruption Act dealing with offences of criminal scheme, cheating, forgery, faking documents, abusing official position, getting bribe and criminal misbehavior by public servant. These offences entail punishment ranging from six months in jail to life imprisonment.
Besides them, corporate honchos-Reliance ADA Group's MD Gautam Doshi, group president Surendra Pipara and senior vice president Hari Nair, Unitech MD Sanjay Chandra, Kalaignar TV MD Sharad Kumar, Bollywood producer Karim Morani and Directors of Kusegaon Fruits and Vegetables Pvt ltd Asif Balwa and Rajeev Aggarwal are facing trial in the case.
Three telecom firms Swan Telecom Pvt Ltd, Unitech Wireless (Tamil Nadu) Pvt Ltd and Reliance Telecom Ltd are also facing trial in the case.
Article viewed on oye! Times at www.oyetimes.com.