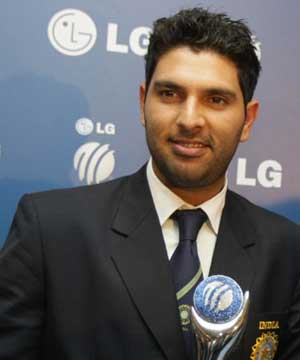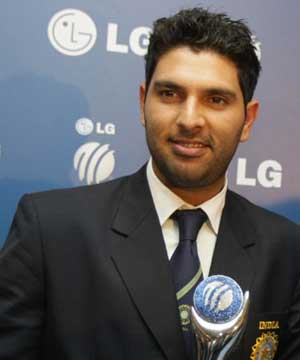 India's World Cup star, Yuvraj Singh will recover from a cancerous tumor, his doctor has told on Monday, as politicians, sports officials and his teammates gathering around the ailing all-rounder. Yuvraj is undergoing chemotherapy treatment in the United States for a rare condition, mediastinal seminoma, a malignant tumor located between his lungs.
A senior Delhi-based oncologist who has been treating the 30-year-old cricketer, Nitesh Rohatgi has said he was confident Yuvraj will recover from the disease. "It is curable with the help of therapy and will not deter Yuvraj's career in the long-term," Rohatgi, a consultant of medical oncology at a New Delhi hospital, has told reporters.
"I must stress it is not lung cancer. It is located between the two lungs, rather than in the lungs. It's a rare disease, but something which can be cured. "I am confident he will be treated and return to cricket like before," said Rohatgi, adding that Yuvraj will be able to start active training by May.
Yuvraj will start the third week of a nine-week chemotherapy treatment in the United States on Wednesday and will be able to do light training as he perks up, the doctor has said. Support for Yuvraj, who was named the man of the tournament after India's World Cup achievement in April last year, poured in from team-mates, officials and politicians across the country.
"Wish Yuvraj a speedy recovery! Asking officials to find the quantum and nature of help required. Government should and will help him," Indian sports minister, Ajay Maken wrote on Twitter. India off-spinner, Harbhajan Singh wrote on the micro-blogging site that "whatever Yuvraj is dealing with, we need to support him, leave him alone and allow him to recover soon".
"He is a born fighter. I request media to respect Yuvraj's privacy and permit him to concentrate on his recovery. He will be back with a bang," said Harbhajan. Indian skipper, Mahendra Singh Dhoni has said that he did not know about the illness as he had not been in touch with Yuvraj, but he told PTI: "He is a pleasure to have in the side."
Left-handed Yuvraj had a dream run in the World Cup, scoring 362 runs with his aggressive batting and grabbing 15 wickets with his well-ordered spin bowling across nine matches. But his family had said in November that the all-rounder had been battling a golf ball-sized harmless lung tumor which first affected him during the tournament.
Yuvraj has not played ready for action cricket since that month when he took part in two of three home Tests against the West Indies.
Vijay Mallya, who owns Indian Premier League ( IPL) side Royal Challengers Bangalore, has stated that he was "shocked" by the news while Indian Davis Cupper , Rohan Bopanna has said "all our prayers and good wishes are with him". "Here's wishing Yuvraj Singh a speedy and complete recovery. On a good day there are few cricketers more exciting than him," Jammu and Kashmir chief minister, Omar Abdullah has prayed.
Former envoy and cricket-mad politician Shashi Tharoor has tweeted: "Yuvraj, you are a brave guy and a hero to millions. You will beat this illness. We are all praying for you to be Man of this Match. God bless." The Board of Control for Cricket in India (BCCI) has also wished Yuvraj a speedy recovery.
Yuvraj has scored 8,051 runs in 274 one-dayers and 1,775 runs in 37 Tests since making his international debut in 2000.
Article viewed on oye! Times at www.oyetimes.com.