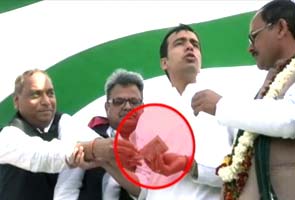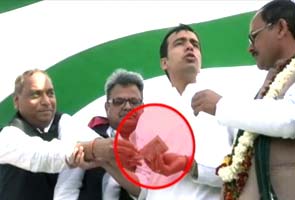 Union Minister Ajit Singh's son Jayant Chaudhry has been issued a notice by the District Magistrate of Mathura on account of accepting cash in election campaign.
The notice was issued after Jayant Chaudhry was caught on camera taking cash from supporters at a campaign rally in Uttar Pradesh. The incident violates code of conduct for election campaigns. According to the video, a local Rashtirya Lok Dal leader, Kundun Singh, handed over 70,000 Indian rupees in cash to Mr. Chaudhry on stage of a campaign rally. Mr. Chaudhry passed the cash to another party member, Meshram Singh, who returned the cash to him and Mr. Chaudhry handed over the money to his brother-in-law Shailendra Agrwal.
Ram Awatar Raman, City ADM said, "We have sent a notice to Chaudhary seeking his explanation. He was caught on camera accepting money at Govardhan Assembly constituency in Mogarra area here".
Election Commission has seized millions of rupees in the past which were supposedly used during election period to influence the results or help an individual win election.
RLD has a significant chance of winning with majority in Uttar Prasdesh, especially the western side of UP. Constituencies falling under the jurisdictions of Mathura will hold election on 28th of February 2012.
Article viewed on Oye! Times at www.oyetimes.com