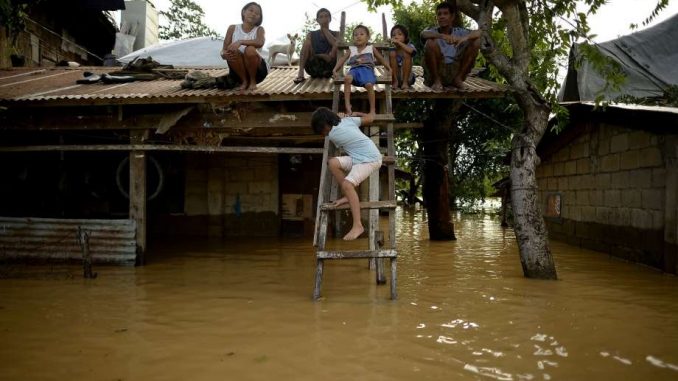 The Philippines declared a state of emergency in a northern province after super typhoon Megi made landfall, cutting off power, forcing flight cancellations and putting the region's rice crop at risk.
Megi, the 10th and strongest typhoon to hit the Philippines this year, hit Isabela province with winds of 190 kph.
Lieutenant-General Gaudencio Pangilinan, head of the military in northern Luzon, said the typhoon's fury was felt in Cagayan and Isabela provinces, where trees were uprooted and roofs of houses blown away.
"There's almost zero visibility in some areas due to heavy rain and strong wind," Lt Gen Pangilinan said. "We expect extensive damage on property and agriculture. We're still validating reports from the field."
Andrew Villacorta, regional executive director in the agriculture department, said Luzon's Cagayan valley accounted for 12 percent of national rice output, or about 1 million tonnes of unmilled rice, lower than earlier estimates from local officials.
"Isabela and Cagayan have been hit hard, estimates showed about 159,000 metric tonnes will be lost from Isabela. About 88,000 hectares will be affected. In Cagayan province, about 43,000 hectares will be affected. The estimated loss will be around 63,000 metric tonnes."
Just over one-third of the crop had been harvested, while about 90 percent of the corn crop had been harvested. Last year, the country lost 1.3 million tonnes of paddy rice following three strong typhoons in September and October, prompting it to go to the market early to boost its stocks.
Philippines Emmanuel International Chairman Alex Pacis said, "We have been helping these farmers for about 2 years now"
I estimated that to be able to help them recover, we need to help them start with seeds, fertilizer and pesticides in October, the next planting cycle. If any of you are able to help even a bit, it will much be appreciated.
Now we also have two churches in Metro Manila that will be affected by too much rain and strong winds. The poor people in shanty's will be wiped out.
More information @ News Room – Emmanuel Rehabilitation & Relief International Canada
​