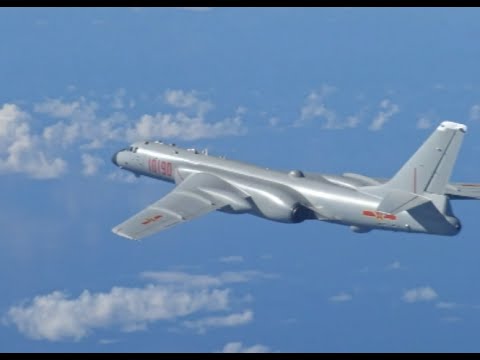 With relatively little fanfare, the Pentagon released its annual report on China's military to Congress. The report entitled "Military and Security Developments Involving the People's Republic of China 2018" is required under Public Law 106-65. On an annual basis, the Secretary of Defense must submit a report in both classified and unclassified form on the military and security developments in China and address the current and probable courses military and technological developments for the People's Liberation Army for the next 20 years. There is one key subject matter in this year's report that suggests that, according to the Pentagon, China is seeking to expand its sphere of influence substantially as you will see in this posting.
The report opens by noting that China's leadership is seeking to "leverage China's growing economic, diplomatic and military clout to establish regional preeminence and expand the country's international influence." While it notes that China is seeking to secure its objectives without jeopardizing the stability of the region that it requires to maintain its dominance economically, it observes that China is also willing to "employ coercive measures – both military and non-military – to advance its interests and mitigate opposition from other countries". Apparently, China's leadership has learned from Washington's playbook.
One of the key developments that China has undertaken over the past three years could directly threaten the United States, at least in the eyes of the writers of the report. Let's start by looking at a map which shows the location of China's major air units, focussing on the nation's bomber bases: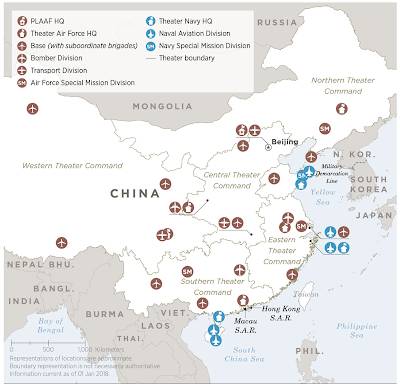 As it stands now, China's bomber force consists of variants of the medium-/long-range H-6 Badger that you can see on this video which shows the latest variant, the H-6K:
The H-6K has integrated standoff weapons with the ability to carry 6 land-attack cruise missiles and more efficient turbofan engines which extend its range to Guam. On top of this latest bomber, the People's Liberation Army Air Force (PLAAF) is seeking to further extend its bombing range with the development of a mid-air refillable bomber and a new stealth strategic bomber, the Xi'an H-20 as shown on this tweet from Global Times:
China's aviation giant, Aviation Industry Corporation, revealed a model jet, believed to be the US B2 stealth bomber-like model "H20", in a 9-second Easter egg in a video commemorating 60 years of its subsidy Xi'an Aircraft Industrial Corporation. https://t.co/yD5k0Ecc0O pic.twitter.com/kLWJkxSaXh
— Global Times (@globaltimesnews) May 9, 2018
To be effective, the new long-range bomber must have an operational range of 8000 kilometres and be capable of carrying a weapons load of at least 10 tonnes. The Pentagon report notes that it is possible that both the H-6K and H-20 would be nuclear capable.
The Pentagon report goes on to note that China is rapidly extending its overwater bombing areas, extending its operations beyond the First Island chain to cover the Second Island Chain which includes Guam and other islands where the United States and other allied nations have military bases. Here is a map showing the approximate locations of the First and Second Island chains, key parts of China's defensive perimeter:

Here is a map showing the United States military bases located in the West Pacific: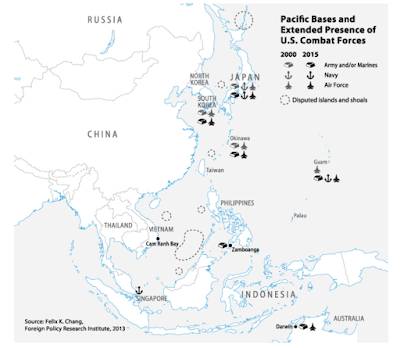 The Naval Base Guam which is located on U.S. territory supports the U.S. Pacific Fleet, the warfighter base and command support. It has 12,000 military members and their families.
The PLAAF and PLAN (Navy) already has the ability to fly beyond the first island chain. In 2013, and H-6G bomber transited the Bashi Channel located between the Philippines and Taiwan but the H-6G lacked the range to threaten U.S. facilities. In 2015, the PLAAF began flying the H-6K past the First Island Chain, flying to within striking range of Guam. In 2016, the PLAAF circumnavigated Taiwan for the first time and significantly increased the number of circumnavigations in 2017. In 2016, China also began to fly H-6K missions in the South China Sea and into the Sea of Japan. In August 2017, the PLAAF sent six H-6K bombers through the Miyako Strait, turning to fly east of Okinawa where there are 47,300 United States forces based (2011 data – includes 1,994 civilians and 19,463 dependents) as shown here: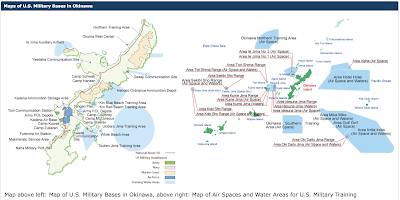 Here is a complete listing of PLAAF and PLAN maritime bomber operations since September 2013: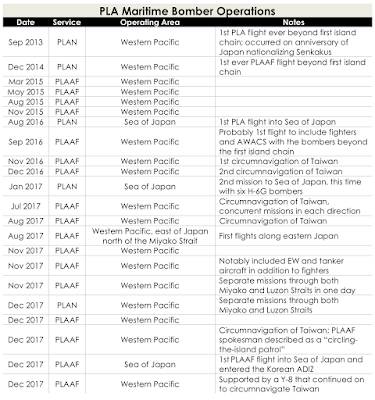 In addition, according to the South China Morning Post, in May 2018, the PLAAF landed a strategic bomber on one of its island reefs (Woody Island in the Paracel Group?) located in the South China Sea for the first time as shown here:
Chinese bombers including the H-6K conduct takeoff and landing training on an island reef at a southern sea area pic.twitter.com/ASY9tGhfAU
— People's Daily,China (@PDChina) May 18, 2018
Here is a map showing China's current overwater bomber range capabilities:

In closing, let's look at China's philosophy on its defense starting with an article appearing on the website of the Ministry of National Defense of the People's Republic of China:
"The Chinese military resolutely opposes and protests Washington adopting the 2019 National Defense Authorization Act into law, Ministry of Defense said on Tuesday.
The act authorizes $717 billion defense spending, the largest in US history, and sets "long-term strategic competition with China" as the United States' "principal priority".
It also includes plans for strengthening Taiwan's self-defense capabilities, prohibiting China from future Rim of the Pacific Naval exercises, and creating public report on China's activities in the South China Sea.
Senior Colonel Wu Qian, a spokesman for the ministry, said in an online statement that the act interferes with China's internal affairs, stokes Sino-US conflicts, and is full of Cold War mentality.
The act also goes against the one-China policy, damages the development of Sino-US military-to-military relation, and undermines mutual trust and cooperation between the two countries, he added.
Taiwan is part of China, and the Taiwan question is related to China's sovereignty and territorial integrity, he said. It is also the most important and sensitive core issues in Sino-US bilateral relation.
"We resolutely oppose any country having any forms of formal and military exchanges with Taiwan, this stance has been consistent and clear," he said. "We will not allow anyone to split Taiwan from China in any way or at any time."
A man cannot prosper without honesty, the same is true for a country, Wu said. "We urge the US to stick to its promises to China regarding Taiwan question, and uphold the one-China policy and the joint communiques made by both nations," he said.
The US should carefully handle Taiwan question to prevent damaging regional peace and security, as well as Sino-US military and bilateral relations, he added." (my bold)
…and a press release from the Ministry of Foreign Affairs of the People's Republic of China:
"Senior officials from China and Russia vowed on August 15 to jointly safeguard "just and equitable" international order and promote global and regional peace and stability.
Yang Jiechi, a member of the Political Bureau of the Communist Party of China (CPC) Central Committee, and Russian Security Council Secretary Nikolai Patrushev made the remarks when co-hosting the 14th round of China-Russia strategic security consultation here.
Yang, who is also director of the Office of the Foreign Affairs Commission of the CPC Central Committee, said both countries should firmly support each other on issues of major concern, increase coordination within multilateral frameworks, and jointly push for the settlement of international hot-spot issues.
He said China-Russia relations are developing at a high level and have entered the best period in history under the leadership of Chinese President Xi Jinping and Russian President Vladimir Putin.
Yang said Xi and Putin have already met twice this year and reached important consensuses.
Both countries should work to implement those consensuses and continue to cement and enrich their comprehensive strategic partnership of coordination, the senior official said.
China and Russia should deepen cooperation in various areas so that it can better benefit the two peoples, Yang said.
Patrushev said Russia-China ties are developing at an unprecedentedly high level thanks to the efforts of both presidents.
Russia is ready to continue high-level contacts, strengthen strategic coordination, and work for greater results from practical cooperation, he said.
The two sides also discussed issues concerning the Korean Peninsula, the Middle East and the Iran nuclear deal, and they reached broad consensuses." (my bold)
Given China's growing air capabilities in the South and Western Pacific and the fact that it is seeking a "just and equitable international order" one wonders how long the current unipolar world order will last. On the upside, America's defense contractors must be rubbing their hands together with glee just thinking about how much U.S. taxpayers are going to spend to defend against China's advancing overwater bomber capabilities.
Click HERE to read more from this author.


Loading ...