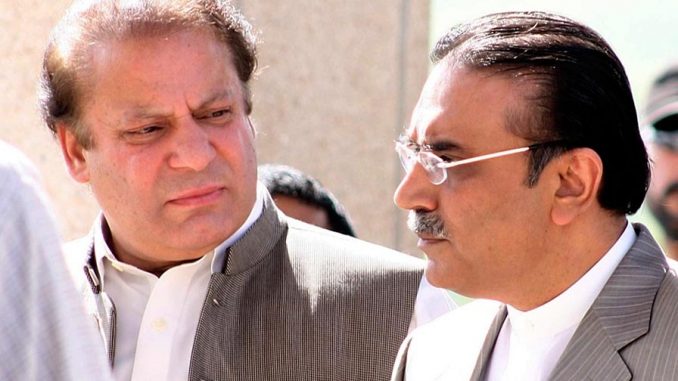 PML-N president Nawaz Sharif is not keen to sit and discuss the caretaker setup with President Asif Ali Zardari. On Tuesday, PML-N Senator Pervaiz Rashid implied that President Zardari was considering to arrange a meeting with Nawaz.

PML-N Senator Pervaiz Rashid said: "Mian Nawaz Sharif is not interested in meeting President Zardari on caretaker setup as he (Sharif) follows the constitution that says the leader of the house (Prime Minister Raja Pervez Ashraf) and leader of opposition (Chaudhry Nisar Ali) will hold talks on it… The president had already telephoned Mian Sahib to condole the death of Abbas Sharif. Now there is no point of his (Zardari's) visit to the residence of Sharif over the issue."

Mr Rashid emphasized that President Zardari must communicate the reason of his meeting if he plans to call on Nawaz Sharif.

"Nawaz Sharif has asked Chaudhry Nisar to see PM Ashraf and develop a consensus on the caretaker prime minister. But the president

has sent him (premier) to London at this crucial time," he said.

Reportedly, Nawaz Sharif is deliberately avoiding President Zardari as he fears that his opponents might take the opportunity to create more propaganda against his party. PML-N is noticed being more vigilant as the elections approach. Shahbaz Sharif has already started scoring points by showing off welfare projects, like Ashiana Housing Project, Daanish Schools, Educational Endowment Fund, Internship Programme, laptop distribution, Green Tractor Scheme and Self-Employment Scheme.