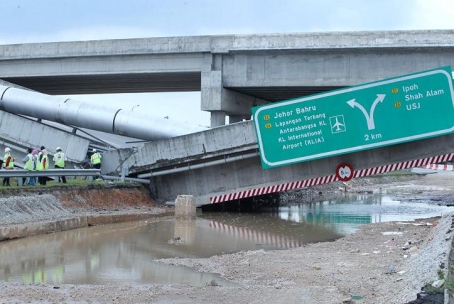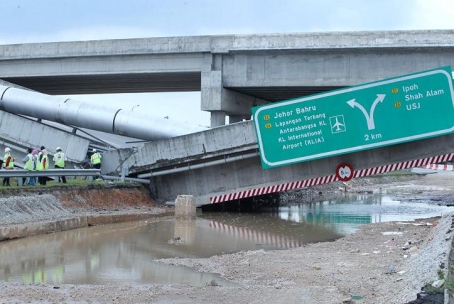 The road-network of Malaysia shakes after the collapse of a flyover in Cyberjaya. Several Tweets indicated that a flyover in Selangor Science Park in Cyberjaya broke into two pieces at around 1am. Fortunately, no human damage has been reported as yet.

The flyover provides an exit from the Elite Highway (KM P2.4) towards SSP2. It is allegedly owned by the Selangor State Development Corporation (PKNS), while the road below it is the Lingkaran Putrajaya stretch managed by PLUS Malaysia Berhad. During the accident, a pipe running along the flyover was also ripped apart.

Earlier this month, the roof of a stadium in Kuala Terengganu also collapsed during the repair process after an earlier collapse. The collapsed flyover was blocked for all vehicles in November. During December, traffic was being diverted to the Lingkaran Putrajaya stretch below the flyover in order to facilitate bridge inspection works.

Works Minister Shaziman Abu Mansor said that he had ordered for the closure of the flyover on Dec 7, 2012 on safety ground after being informed of its structural defects.

"I signed a gazette to shut down this flyover on Dec 7, 2012, effective until Dec 31, 2013, depending on the completion of the repair works," he said in a statement today.

The accident has caused severe traffic jam around the area as drivers slowed their cars to look at the collapsed flyover. Reportedly, over ten officers and security guards from the PKNS showroom are present at the location. Earlier in November 2008, it was announced that the RM56 million flyover is aimed at providing easier access to commuters from the city centre and the Kuala Lumpur International Airport (KLIA) to the 1,300-acre SSP2.