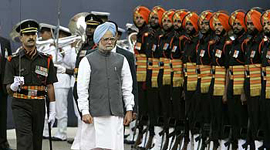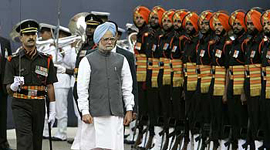 Prime Minister Manmohan Singh is responding well to the treatment following his coronary bypass surgery on Saturday and would be out of the intensive care unit by Wednesday, his doctors said on Monday. "He is responding very well to the treatment. Everything is going as per treatment plan. The prime minister will be taken out of ICU by Wednesday," Dr Ramakant Panda of the Asian Heart Institute, who led the team of doctors who operated upon Mr Singh, told the news agencies.
Mr Panda said the prime minister could walk in the next few days. He will be given physiotherapy sessions once he is out of the ICU. Meanwhile, the prime minister's "excellent progress" in recovery encouraged his doctors to put him on a semi-solid diet on Monday and remove many of his monitoring lines.
"The prime minister continues to make excellent progress in his recovery following the heart surgery… He sat up this morning and had semi-solid food," PM's media advisor Deepak Sandhu said on Monday. She added that several of his invasive monitoring lines had been removed and the physiotherapists would soon be working on his early mobilisation.
Mr Singh underwent the "beating heart" bypass surgery on Saturday to remove multiple blockages in his heart. The doctors had done five grafts during the 11-hour procedure to overcome the blockages.
Mr Singh could not attend the Republic Day celebrations in view of his medical condition. All his duties at the parade, including paying tributes at the Amar Jawan Jyoti, were performed by defence minister A K Antony, even as the prime minister is said to have caught the R-Day ceremony on television.
According to Ms Sandhu, the prime minister was conversing well with his family members and the doctors attending to him. She added that he was eager to resume his duties. Though high profile visitors like Congress president Sonia Gandhi and family friends like Montek Singh Ahluwalia have visited Mr Singh at the hospital , they limited their interaction to his family members, enquiring them about his health.
Dr Vijay D'Silva , who is taking care of Mr Singh at the ICU at AIIMS since the operation, on Monday confirmed that the prime minister was "recovering well" and that "all his vital parameters are stable." He said Mr Singh had taken a diet of coconut water and some porridge on Monday morning.
According to the PM's media advisor, Mr Singh was "deeply touched by the countless 'get well soon' messages he has been receiving from across the country. "The prime minister is specially overwhelmed by the abundance of good wishes that have come from children, many of whom have prayed for his quick recuperation," she said.
Punjab chief minister Parkash Singh Badal too came forward on Monday to organise an akhand path at the Golden Temple in Amritsar for Mr Singh's speedy recovery. Dr K S Reddy, personal physician to the prime minister, had on Sunday said that Mr Singh could do virtually do all work, including attending a public meeting, in four weeks. Though the date of his discharge is yet to be finalised, the doctors, going by his postoperative recovery, do not see his stay at the hospital extending beyond the next 4-5 days.
We'll resolve all issues peacefully, Gilani tells PM
Pakistani prime minister Yousuf Raza Gilani has reiterated his government's commitment to peacefully resolve all outstanding issues with India to usher in an era of peace and prosperity on the subcontinent, reports media from Islamabad .
In a message to his Indian counterpart Manmohan Singh on Republic Day, Mr Gilani said: "It is a matter of pleasure for me to convey , on my own behalf and on behalf of the government of Pakistan, our warm felicitation to you and to the government and people of India on the occasion of the Republic Day of India." This is the second time Mr Gilani has communicated with Mr Singh in a week. On Sunday, both Pakistani President Asif Ali Zardari and Mr Gilani extended "get well soon" greetings to the prime minister.