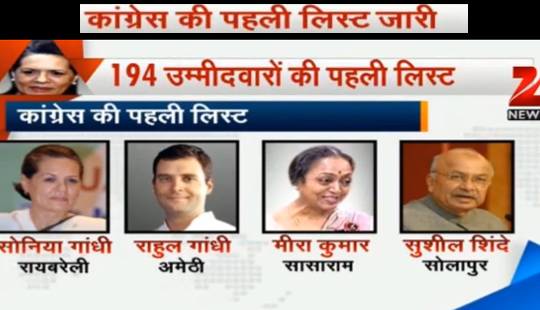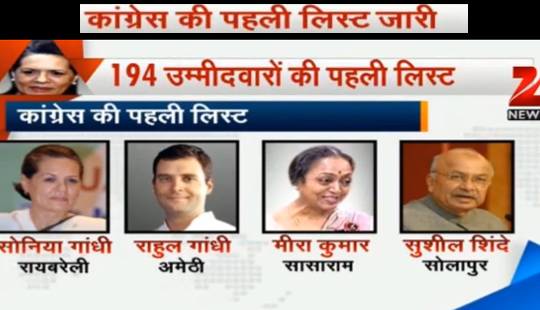 This Saturday, the Congress released its first list of 194 candidates for the coming Lok Sabha elections which includes prominent figures like Sonia Gandhi, Rahul Gandhi and Mohd. Kaif. Thirty five percent of the candidates making this list are under the age of fifty. The list includes more than sixty sitting members from Uttar Pradesh, Assam, Bihar, Gujarat, West Bengal, Madhya Pradesh, Maharashtra, Rajasthan, Punjab and also some other northern eastern states.
Sonia and Rahul Gandhi will seek their re-election from Rae Bareli and Amethi. Among the union ministers figuring in the list are Sushilumar Shinde from Sholapur in Maharastra, Salman Khurshid from Farrukhabad, Sriprakash Jaiswal from Kanpur, Beni Prasad Verma from Gonda, Kamal Nath from Chhindwara and Jyotiraditya Scindia from Guna in Madhya Pradesh, Adhir Ranjan Chowdhary from Behrampur (West Bengal), Parneet Kaur from Patiala (Punjab), Girija Vyas from Chittorgarh (Rajasthan), K H Muniyappa from Kolar and Mallikarjun Kharge from Gulbarga, (Karnataka).
Mohd Kaif is the Congress's candidate from Phulpur, which is a constituency in Uttar Pradesh which was once represented by none other than Jawaharlal Nehru. Karuna Shukla is the nominee from Bilaspur in Chhattisgarh while justice Hanumanthappa from Bellary in Karnataka. The Bhojpuri films famous star Ravi Kishen, Oriya actors Aparajita Mohanty and Bijay Mohanty, Justice N Y Hanumanthappa, Atal Bihari Vajpayee's niece Karuna Shukla are also among the nominees. This is for the first time that the Congress has quickly finalized and released the list of so many candidates for the general elections soon after the announcement of the poll schedule.