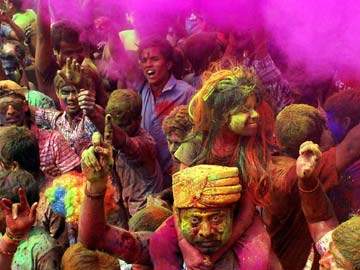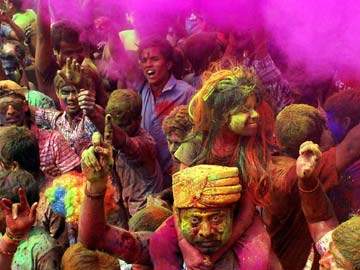 The residents living in the capital of India this Monday celebrated Holi, the Hindu festival of colours, with immense zest and gaiety. Thousands of Indians filled the streets with the red 'gulal' and water sprinklers filled with coloured water and threw coloured powder on each other.

The smell of 'gulal' and the joyous spirits of Indians pervaded the national capital today since morning. People visited friends and relatives, gifted the traditional sweet 'gujia', besides smearing colour on each other's faces. Children also enjoyed the day as they sprayed coloured water using their water guns and hurled water filled balloons on people from their rooftops. The Delhi Police made an elaborate arrangement to ensure a safe and joyous Holifor the people in Delhi. The Police personnel were deployed all over the city. Police had issued a warning against the hooliganism in the guise of revelry. Commuters had to face inconveniences in the first half of the day as public transport facilities, including buses and Metro Rail, were shut till late afternoon. President Pranab Mukherjee and Prime Minister Manmohan Singh have greeted people on the occasion of Holi, saying that the festival provided an opportunity to strengthen the bonds of unity and friendship.

Holi was not only celebrated in the capital of India but Hindu's all over the world celebrated their festival with full gaiety. The Spinney Hill park in the city of Leicester was yesterday full of colour as thousands of people came out to celebrate the Hindu Festival of Holi. In Leicester the celebrations have been taking place in Spinney Hill park since 1985.