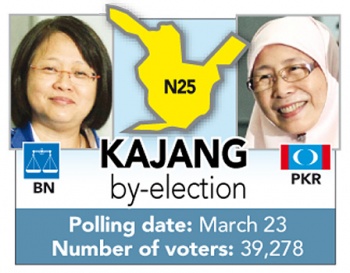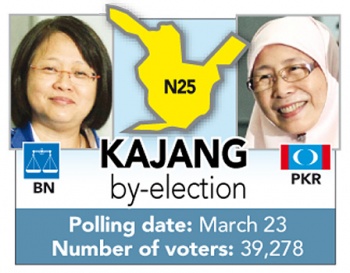 Prime Minister Datuk Seri Najib Tun Razak this Saturday expressed that he wanted the Kajang voters to give their mandate to Barisan Nasional's (BN) candidate so as to intensify the efforts to strengthen the inter-racial cooperation which can lead to a boost to the country's development.

"We also regret the fact that the campaign for Kajang by-election has become the platform for opposition party leaders to tarnish the image of our former leaders, who are obviously have retired from politics. This include the attacks on (former Finance Minister) Tun Daim Zainuddin who has done so much for the country," he said in a statement this Saturday. Najib also expressed that personal attacks on these former leaders was an indication of the opposition's disrespectful attitude towards those who had made major deeds and great contributions to the country. The Kajang state by-election is being held after Lee Chin Cheh of PKR resigned as the state assemblyman on 27th of January.

The by-election, scheduled for coming Sunday, is a direct battle between between the BN candidate Datin Paduka Chew Mei Fun and the PKR president Datuk Seri Dr Wan Azizah Wan Ismail. Najib further added that the campaign for the by-election was running quite smoothly despite the fact that the government had to coordinate the massive search and rescue operation to find the Malaysia Airlines Flight MH370. "Let's continue to pray that the search will be fruitful. This incident should not be politicized because the truth still remains a mystery," he added.