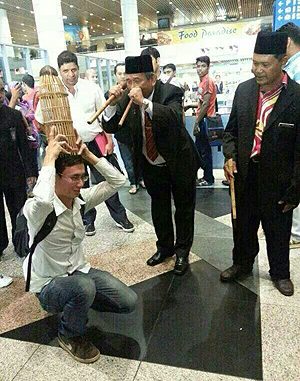 The government has assured the Malaysian nation that it was not the Malaysian government who hired or directed any party to use the services of a 'bomoh' (The Malay medicine man) to find the missing Malaysia Airlines MH370 aircraft. The Minister in Prime Minister's Department Datuk Seri Jamil Khir Baharom also denied that the government had hired bomoh Ibrahim Mat Zin to locate the plane.

"The airport is a public space (anyone can go there). We don't know who hired him and it's not our business to ask him (Ibrahim)," he said while winding up the debate on the Royal address at the Dewan Rakyat here today. On March 10, Ibrahim, who calls himself 'Raja Bomoh' conducted a ceremony at the Kuala Lumpur International Airport to 'find' the MH370 aircraft, which was reported missing on March 8. His effort was condemned by numerous quarters and vociferously criticized on social media sites as it was deemed to have flouted Islamic teachings and embarrassed the nation.

Referring to a video of a ritual – said to "raise the bodies" from the sea – in Pulau Sembilan, Perak, Perak PAS Youth chief Raja Ahmad Iskandar Raja Yaakob urged action against such "unIslamic" acts. "PAS Youth is disappointed that such superstitious and shirk (polytheistic) acts are still ongoing in Perak despite Perak mufti Harussani Zakaria speaking against the Raja Bomoh…What is the Perak Islamic Affairs Department's role in preventing such acts from being practiced?" he asked in a statement.