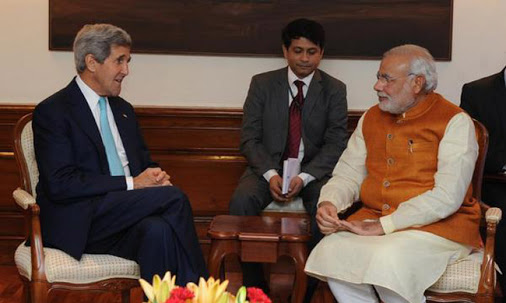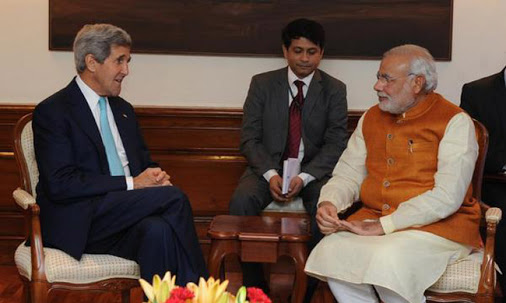 This Friday, the US Secretary of State John Kerry while on his visit to India, held a meeting with the Prime Minister of India, Narendra Modi. The meeting was a prelude to the summit meeting that is to take place between the Indian Prime Minister and his US counterpart, Barack Obama in September. The meeting between the two officials started at about 11 a.m.

John Kerry's meeting with the Indian Prime Minister Modi was held at the Prime Minister's House, 7, Race Course Road, comes a day after he met the External Affairs Minister Sushma Swaraj for the 5th India-US Strategic Dialogue. Kerry informed in his speech yesterday that the US was keen to partner the Modi government in its vision of "Sabka saath sabka vikas" or development for all. Kerry arrived here Wednesday at the head of high-level delegation, in the first high-level contact of the US with the Modi government. During the meeting with Kerry, the External Affairs Minister Swaraj brought up the matter of America's cyber snooping and said that it was completely unacceptable, especially between friends.

Kerry replied that the US "fully respects and understands the feelings expressed" by the minister and that the US would continue to work with India wherever they saw a threat to their shared interests. A World Trade Organisation pact to ease worldwide customs rules collapsed late on Thursday over India's demands for concessions on agricultural stockpiling but still the meeting between Kerry and Modi was 'strong and positive' according to a US State Department official. "Failure to sign the Trade Facilitation Agreement sent a confusing signal and undermined the very image Prime Minister Modi is trying to send about India," he further informed the reporters after the meeting.