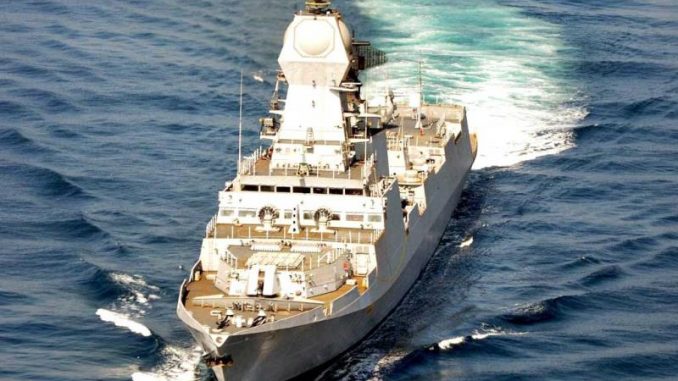 This Saturday, the Indian Prime Minister, Narendra Modi, commissioned India's largest indigenously-built warship INS Kolkata in Mumbai and while addressing the soldiers said that he dedicates the naval destroyer to the whole nation. The Prime Minister was accompanied by the Defence Minister Arun Jaitley, Maharashtra Chief Minister Prithviraj Chavan, Chief of Naval Staff Admiral RK Dhowan and other officials.

"INS Kolkata is entirely built in India and it is a symbol of our self-reliance. It is a prime example of India's technical abilities and will send a message around the globe," said the Prime Minister. "In the age of science and technology, intelligence and security is of utmost importance," further added the PM. INS Kolkata has an operating range of 15,000 km and is one of the first of the three such ships that will join the Indian Navy in near future. The warship has an in-built anti-submarine capability and can also take on an anti-ship missile and fighter aircraft. The destroyer is also one of the first navy ships to be equipped with land attack.

These capabilities give INS Kolkata an ability to operate without supporting fleet of ships. With an integral hanger and a landing deck for a helicopter, the guided missile destroyer will add teeth to the 140-ship strong Indian Navy, currently undergoing a massive expansion according to NDTV. The prime minister further added that theIndian Naval officers have prepared a fine vessel of communication in this modern age. He said that the armed forces will never let India fall behind the world.