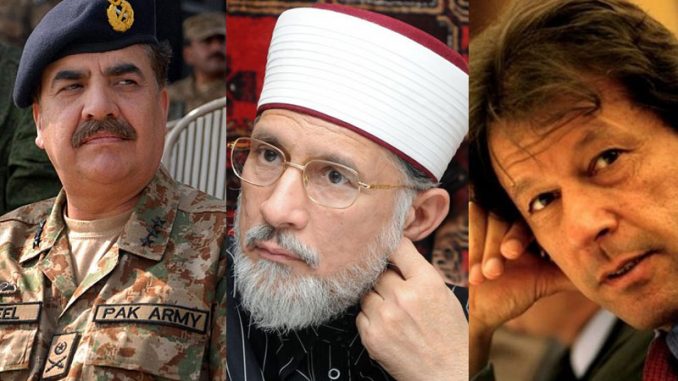 Dr. Tahirul Qadri, the Pakistan Awami Tehreek chief announced that the Government has officially asked the Chief of Army Staff (COAS) to come between the government and the protesters and to act as the mediator between the Pakistani politicians to remove the deadlock. "The army chief has asked us to give him 24 hours to solve the crisis," the PAT leader addressed his supporters and asked for their agreement.

"The army will compile and put together a package of our demands and make sure they are implemented," Qadri added. Later this Thursday night, Imran Khan, the captain and chairman of Pakistan Tehreek-e-Insaf also announced that he plans to meet the army chief and delay his big step that he plans to take to remove the current Prime Minister Nawaz Sharif.

Around eleven o'clock both the leaders went to meet the army chief at his headquarters in Rawalpindi. On the other hand the co-chairman of the Pakistan People's Party Bilawal Bhutto tweeted that "BB hum sharminda hain" which means that he's talking to his mother Benazir Bhutto and is saying that he's ashamed that the Pakistani politicians could not find a solution to the deadlock and had to take help from the Pakistani army to intervene into politics. What happens next is just a matter of time.