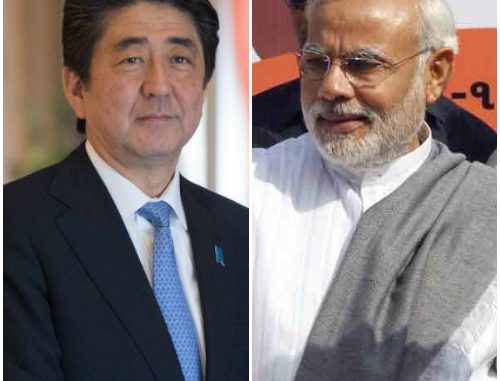 The Indian Prime Minister Narendra Modi, on his five day visit to Japan chose this Saturday to witness the signing of the Varanasi-Kyoto Partner City affiliation MoU between the two governments of India and Japan at the State Guest House Kyoto. The agreement was signed by Deepa Gopalan Wadhwa, Ambassador of India in Japan, and Mr. Daisaku Kadokawa, the Mayor of Kyoto.

The Indian Prime Minister arrived at the Kansai Airport, Osaka this Saturday, early in the morning. . He was received by Yagi, Ambassador of Japan in India, and Yamazaki, Chief of Protocol, Ministry of Foreign Affairs, and the Ambassador of India in Japan, Deepa Gopalan Wadhwa according to dnaindia. Modi was received by the Prime Minister of Japan, Shinzo Abe, at the State Guest House in Kyoto. Abe travelled from Tokyo to Kyoto to personally receive the Indian Prime Minister. Narendra Modi was also served Japanese food which included fish at the dinner hosted by Abe at the State Guest House.

Osaka Varanasi, is to be developed into a 'smart city' by using the expertise of Kyoto 'smart city' of Japan according to the pact signed today. A Partner City MoU was signed by Indian Ambassador Deepa Wadhwa and Kyoto Mayor Daisaka Kadokawa at a ceremony witnessed by Modi and his Japanese counterpart Shinzo Abe.