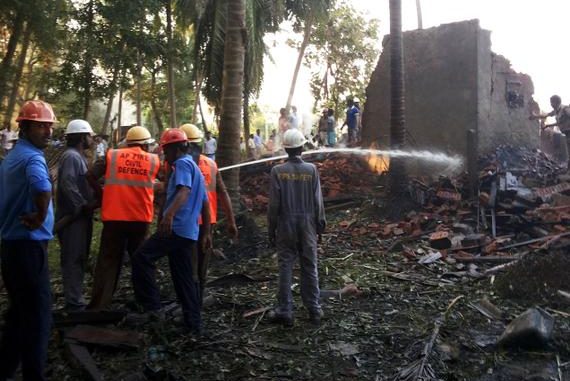 At least 17 people died in the blast that took place in the fireworks factory this Monday located in the Andhra Pradesh's East Godavari district said the police. The incident took place in Vakatippa village where the initial reports were that eleven people have lost their lives.

Today it was confirmed that after the initial death toll of eleven, now the number of deceased has increased to seventeen after six more died due to serious injuries at the hospital located in Kakinada town. The victims of the private cracker unit were working when the blast took place last afternoon. According to initial reports, the police had informed that there were 18 people working in the unit when the blast took place but later the Andhra Pradesh Deputy Chief Minister N. Chinnarajappa confirmed that there were 30 people present at the site of the explosion. He further informed that the fireworks manufacturing unit had applied for a renewal of their license.

According to The Hindu online portal, the explosion had left 9 workers dead on the spot while two others died while undergoing treatment at a hospital. As per preliminary reports, the explosion was a result of a chemical reaction during the cracker manufacturing process. District Collector Neetu Prasad has ordered a magisterial inquiry into the explosion while the State government had said that steps are being initiated to shut down those fire cracker manufacturing units which are operating illegally.