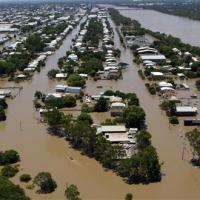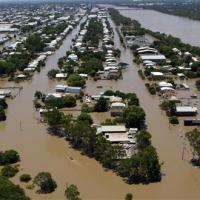 Brisbane faces its worst floods since 1893 as rivers swollen with heavy rain race toward Australia's third-largest city, triggering evacuations.
Flash floods on Jan. 10 left 10 dead and more than 90 missing in the northeastern state of Queensland, Premier Anna Bligh said in an interview on Channel Nine today. The death toll may more than double and Brisbane residents should be prepared for enormous disruptions, she said.
As the continent moved into Wednesday ahead of the rest of the world, the reports kept coming about more water. Brisbane, Australia's third largest city is sandbagging homes and building in an attempt to stem the rising tide but this may turn out to be of no avail. The ground has absorbed all the water it can so any more rain has only one place to go and that is towards the sea but with rivers already filled to capacity, that trip to the sea is just about anywhere and everywhere.

ITNnews – Jan 10/2011
http://www.youtube.com/watch?v=HF65CkFY-UQ
Associate Press: Deadly Flash Floods Add to NE Australia Misery – Jan 10/2011
Good gravy, look at the these floods! Cars are being swept away by the force of the floods moving through municipal areas.
http://www.youtube.com/watch?v=howSp_RdRHE
Guardian: Interactive Map – Jan 5/2011
A map of the area with clickable links to see pictures of various points in the flood zone.
Russia Today: Video of 'biblical' Australia floods – Jan 3/2011
I have no idea what the odd buzzing is in the sound track for this video.
http://www.youtube.com/watch?v=5NJzamfavmg
BBC News (Satellite Feed) – Queensland Floods 2011 – Jan 1/2011
This report talks about Rockhampton.
http://www.youtube.com/watch?v=kB5g-jIma1c
ITN news: Downpours flood Australia – Dec 28/2010
http://www.youtube.com/watch?v=PPkDc5Q-_AQ