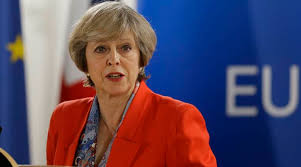 Theresa May suffers humiliating defeat as MPs vote down her deal by 432 votes to 202 and Jeremy Corbyn tables vote of no-confidence in attempt to trigger a General Election.
The Labour leader said the confidence vote, which is expected at 7pm tomorrow, would allow the Commons to 'give its verdict on the sheer incompetence of this Government'.
It came immediately after MPs overwhelmingly rejected the PM's agreement by 432 votes to 202, the worst defeat suffered by a UK Government in more than 100 years.
Scotland's first minister has said another referendum on Brexit is now the "only credible option" after MPs rejected the Brexit deal.
The PM said the government will proceed with a "constructive spirit" and that the British people "want this issue settled".
Mrs May has signalled her intention to carry on despite suffering the largest defeat for any sitting UK government in history, and has offered cross-party talks in a bid to find a way forward from the current stalemate if she wins the no confidence vote on Wednesday.
In a statement released immediately after the vote, the prime minister said: "The House has spoken and this government will listen."