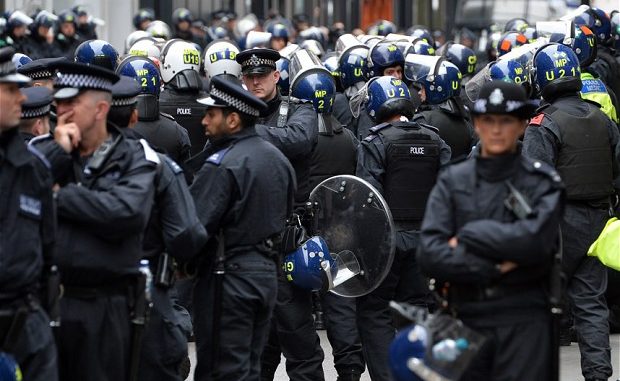 Around 100 riot policemen have surrounded a building in Soho, central London, which is believed to be occupied by anti-G8 protesters, who demonstrated in the British capital ahead of next week's G8 summit in Northern Ireland.
The police operation came as around 150 protesters paraded through central London, banging drums in a "Carnival Against Capitalism" organised by the group Stop G8.
Police officers are in a stand-off at a reported squat in Beak Street, a former police station in the Soho district.
The Police Metropolitan officers have told occupants of the building that they were free to leave, but would be subject to searches if they did.
Meanwhile, demonstrators gathered at Oxford Circus in the heart of London's shopping district, and then moved down Regent Street to Piccadilly Circus.
Local residents and office staff have reported about a strong police presence in and around Oxford Street and Regent Street.
The demonstration comes ahead of a planned "Carnival against Capitalism", organised by anti-G8 group StopG8. Next week G8 world leaders will gather for a two-day summit in Northern Ireland.
U.S. president Barack Obama will also visit parts of Belfast ahead of the summit and police protection of landmark sites across Belfast has been tightened in advance.
Article viewed on Oye! Times at www.oyetimes.com.