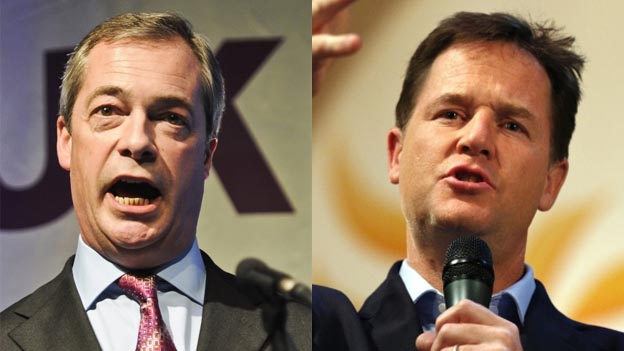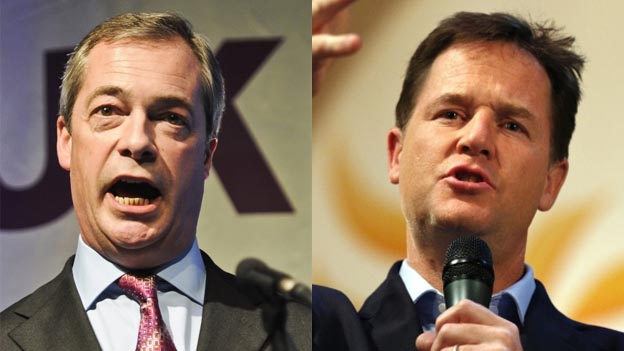 U.K. Deputy Prime Minister Nick Clegg has announced on Wednesday that the dates for the two most awaited head-to-head open debates over the EU membership between him and the leader of U.K. Independence Party Nigel Farage will take place ahead of the 22 May European Parliament elections.
After discussions between the parties and broadcasters, a radio debate will take place on LBC on Wednesday March 26, and after a week a televised debate on BBC2 on April 2.
Mr Clegg has expressed his delight over fixing of the dates for the debate.
The Lib Dem leader has said he will launch an all-out attack on the "myths" peddled by "isolationists".
The Deputy PM has said: "I wanted the British people to see that there is a very real choice at the upcoming European elections: between the Liberal Democrats as the party of 'in' and UKIP as the party of 'out'.
"The Liberal Democrats are fighting to keep Britain in Europe to protect British jobs while UKIP want to yank us out and threaten our recovery."
The head of the country's most anti-EU party, Mr Farage has said he would take advantage of this opportunity and use it as a "platform for the majority of British people, who want our relationship with Europe to be one of trade and co-operation but not one of political union".
The hour-long televised debate will see them answer questions from a selected audience of pro- and anti-EU voters, which will be chaired by Question Time host David Dimbleby.
Director of BBC News and Current Affairs, James Harding has said: "We are delighted to have negotiated successfully to broadcast this important debate.
"Europe is always a highly charged issue in British politics and this is a fantastic opportunity to test the arguments."
British Prime Minister and the head of Conservative Party, David Cameron, wants to renegotiate London's relationship with Brussels and stage an in-or-out referendum by the end of 2017 if he gets re-elected as prime minister after general election 2015.
Article viewed on Oye! Times at www.oyetimes.com.