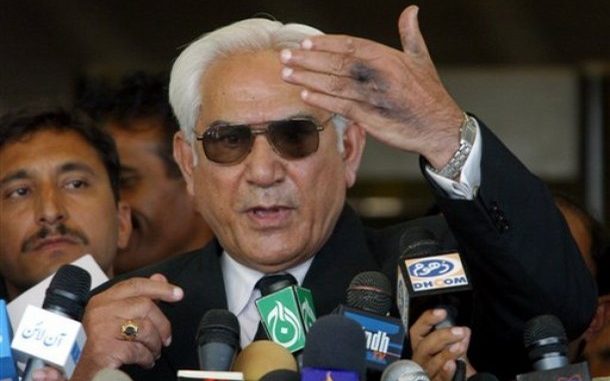 Pervez Musharraf's counsels this Wednesday told the special court set up to conduct the treason trial of their client that they being threatened by Tehreek-e-Taliban Pakistan (TTP), for representing the former military ruler and called for shifting court to a safer location.

During the course of proceedings, Musharraf's Counsel Ahmed Raza Kasuri produced a handwritten letter, allegedly sent to them by Taliban, before the court. He informed the bench that Taliban have threatened to behead them him and his fellow counsels Anwar Mansoor and Sharifuddin Pirzada if they continued to represent former president. "We cannot go ahead with this case in these conditions," said Kasuri, after reading the Urdu-language letter, signed as "people of South and North Waziristan". Musharraf 's counsel said that court, which has been set up at the National Library here, should move to a safer location after deadly suicide attack in Islamabad Kachehri (local court) earlier this week that left at least 13 people dead including an Additional Session Judge. Another counsel of former military ruler Rana Ijaz said that he has credible information that the special court could be targeted by the terrorists. Over this, Justice Faisal Arab remarked that the case couldn't be closed due to threats. "We are conscious of our responsibility, if the case comes before the court, it has to be proceeded, we cannot leave our job for any threat of life," said Justice Arab.

The court later adjourned the hearing of treason case till March 7. Speaking to media outside the court, another Musharraf counsel Anwar Masoor Khan told that application regarding change in the court venue has been filed. It is pertinent to mention that court has summoned former military ruler on March 11th for indictment in treason case.