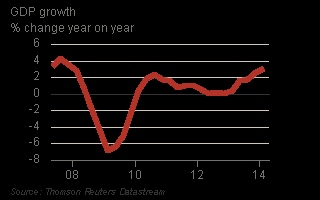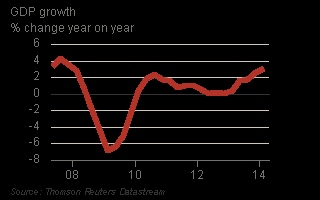 The official figures have revealed that Britain's economy grew by 0.8% in the first quarter of 2014.
The fresh expansion is the fifth consecutive increase in GDP growth.
However, the Office for National Statistics (ONS) findings have also shown that the economy remains 0.6% smaller than its peak of 2008.
The initially estimated growth figure for the first three months, is a slight increase on the 0.7% recorded in fourth quarter of 2013, and is a 3.1% on the same period a year previously.
However, there have been predictions that the growth figure would be higher than stated, nearly about 0.9%.
The ONS has stated in its detailed report that U.K. manufacturing output grew by 1.3%, while the service sector increased is recorded at 0.9%. Construction output only grew by 0.3%, but the ONS said the sector had been affected by the storms and high rainfall in January and February; whereas agriculture was the only one of the four main industrial sectors to register a fall in output of 0.7%.
Deputy Prime Minister Nick Clegg has commented on the findings by saying: "Today's growth figures are another welcome sign that our economy is moving in the right direction – employment is up, growth is up.
"Skilled British workers in areas like our thriving automotive industry and our world class services sector are helping to rebalance the economy, building a fairer society for this generation and the next."
The Chancellor George Osborne has said the new findings were evident of the positive results of government's economic plan: "For the first time in a decade all three main sectors of the economy – manufacturing, services and construction – have grown by at least three per cent over the past year."
Mr Osborne has added: "The impact of the 'great recession' is still being felt, but the foundations for a broad-based recovery are now in place."
But the shadow chancellor, Ed Balls has raised the concern whether ordinary people would benefit from the long-lasting and balanced recovery, saying "millions of hardworking people are still feeling no recovery at all".
Mr Balls has added: "With business investment still weak, infrastructure output down and housing demand outstripping housing supply, this is not yet a recovery that is built to last."
Article viewed on Oye! Times at www.oyetimes.com.