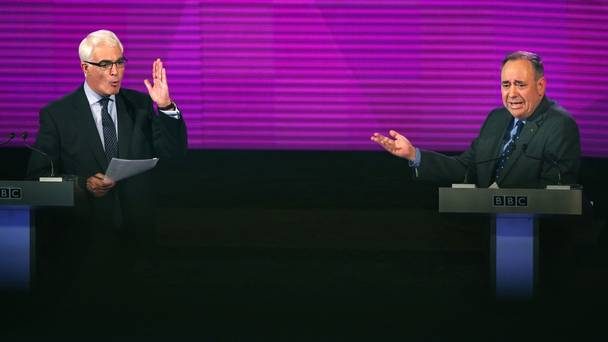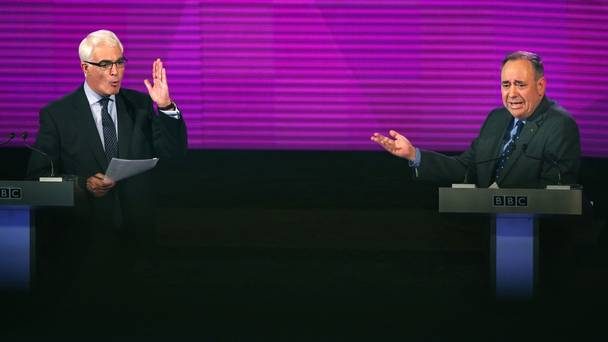 Scotland's First Minister Alex Salmond performs strongly in Monday night's second televised debate with Better Together campaign leader Alistair Darling at Kelvingrove Art Gallery and Museum in Glasgow.
Mr Salmond, the leader of Scotland's pro-independence Yes campaign, gave a morale boosting performance in a crucial televised campaign where he told voters: "This is our time, our moment: let us do it now."
A snap Guardian/ICM poll suggested Scotland's first minister had won the debate on future of Scotland against Mr Darling by a margin of 71 per cent to 29 per cent.
However, a similar survey after head to head opening debate between the two leaders last month suggested the former chancellor had scored a narrow victory over the SNP leader.
During the opening clash, the currency issue for an independent Scotland proved stumbling block for Scottish First minister, this time he has presented several currency options for Scotland should it lose the pound and pressed Darling into admitting that the remainder of the union couldn't prevent Scotland using the pound if supports to get independent.
Even though Mr Salmond came out as a clear winner after poll results, with 54% of viewers voting he had a more appealing personality than Darling and 56% feeling Salmond had presented better arguments than his opponents, still the support for the Yes campaign remained unchanged after the debate.
Before the debate, 44% of voters intended to vote for independence and the number remained constant in the snap poll after the debate's end with only three weeks left for the historic vote on independence to take place.
It is still likely that the support gets well close to the level of people against breaking the Scotland's 307-year union with England.
Article viewed on Oye! Times at www.oyetimes.com.