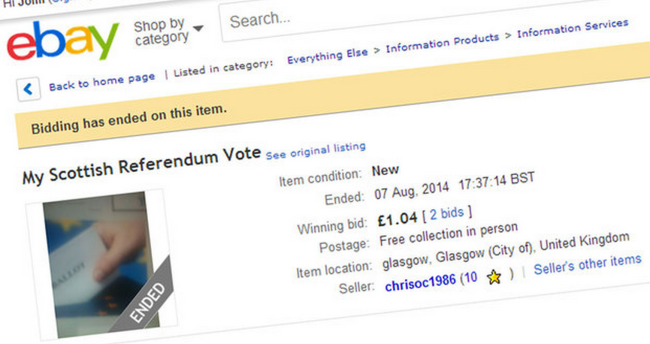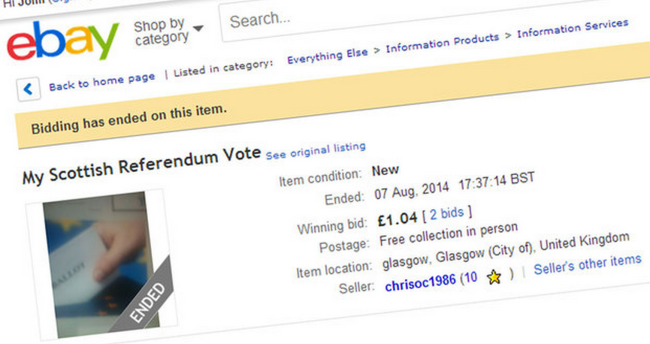 Police in Scotland are investigating the sale of votes for the independence referendum to be held on September 18, after number of individuals attempted to sell them online on eBay in recent weeks.
It has been reported that a person from Glasgow, sold vote for £1.04 with the listing description stating: "This is my very own unique piece of British History! It is my personal YES or NO vote for the upcoming Scottish Referendum in September.
"I for one, do not give a flying monkeys about any of this. This could be the deciding vote. Who knows? I am a hard working Scottish citizen with a house, a gorgeous wife and two beautiful kids who are my world.
"This vote will not change anything in our lives so I have decided not to vote my opinion but instead….. ONE OF YOURS! Happy Bidding"
The Electoral Commission had spotted the illegal sales of votes, which were then removed from the online bidding site.
A spokeswoman for the Electoral Commission has told it had made an agreement with eBay that any such "votes for sale" listings would be taken down and make it to come in the notice of the police.
She has also indicated of this act of selling and buying votes was a criminal offence that could lead to a year in prison or a "substantial" fine.
After the incident happened, police have also launched an investigation into the ballot.
A police force spokesperson has said: "Our policing arrangements for the referendum are well in hand and will be appropriate and proportionate.
"Police Scotland's priority is to ensure public safety and security. We will respond appropriately to any issues which arise.
"We are investigating these incidents and therefore cannot comment on the outcome of these incidents until all inquires are concluded. Where other incidents are reported they will be investigated and appropriate action taken. "
The Scottish independence referendum is about to take place in less than three weeks which will decide the future of Scotland in the shape of either independence or remaining united with the United Kingdom.
Meanwhile, a recently taken poll that have released on Friday showed Scottish independence "Yes" campaign's support grew, with 47 per cent of respondents to back breaking 307 years long union with Britain.
Article viewed on Oye! Times at www.oyetimes.com.