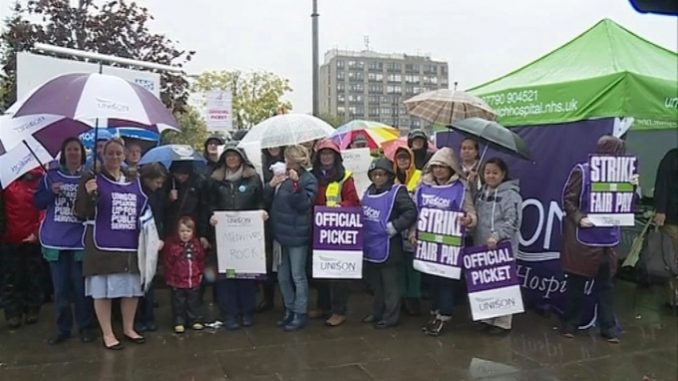 Hundreds of thousands of health workers in England`s state-run National Health Service (NHS) went on a four-hour strike, staged on Monday for the first time since 1982 following the government`s dismissal of an across-the-board pay rise of 1%
Many hospital workers from six trade unions including nurses, midwives and ambulance staff across England joined the industrial action over pay dispute. Patient services were disrupted, but it was made sure that the emergency care remains unaffected, after an agreement between union leaders and management. It was also the first time that midwives from the Royal College of Midwives (RCM) participated in its first strike since it was founded in 1881, as they insisted that they need to be valued more.
The dispute involves more than 400,000 NHS staff, who have been hit by pay freezes or below-inflation rises, since the Conservative-led coalition came to power in 2010.
Some other forms of industrial action will also follow the strike during the rest of the week, leading up to a national demonstration in London on Saturday organised by the TUC under the banner, Britain Needs A Pay Rise.
The anger has elevated after the revelations that an independent pay body has recommended a 9% increase for MPs, while health staff are not even getting the full one per cent recommended by their pay review board. Overtime, pensions, and annual increments are all being hit.
Health Secretary Jeremy Hunt has maintained that 55% of health staff will receive a pay rise of 3% saying that the government simply cannot afford to pay out everything that is being requested.
Mr Hunt has warned that giving all staff a 1% increase would lead to axe 4,000 nursing posts.
Article viewed on Oye! Times at www.oyetimes.com.