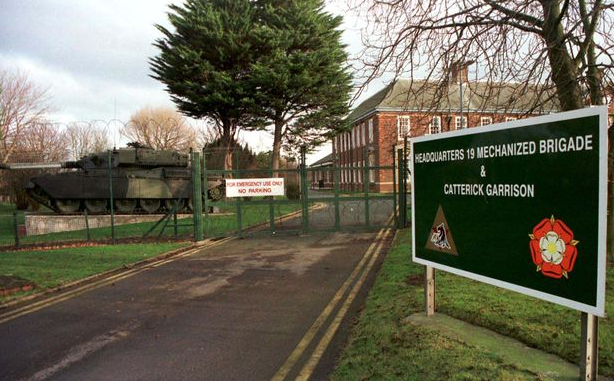 A1 motorway in northern England has been closed in both directions on Saturday following reports that an explosion was heard near Britain's largest army training barracks – Catterick Garrison in North Yorkshire.
North Yorkshire Police was alerted by staff at the Army's Marne Barracks, part of nearby Catterick Garrison, at 03:00 GMT where more than 13,000 army personnel and their families are based. However, the search team remained unable to find any cause of an explosion.
No injuries or damages have been reported, and police said to continue their investigation of a possible cause.
A spokeswoman for the Highways Agency has indicated that the closure affected a six-mile (10km) stretch of road.
A North Yorkshire Police spokeswoman has said: "We don't know what it was. At the moment, there's nothing obvious."
"Obviously because it's in that area we've got to take all precautions. The barracks are right next to the A1 (road)."
The spokeswoman has added: "The search remains focused on the area outside of the barracks and the area adjacent to the A1, although at this stage, it cannot be ruled out that it has occurred within the boundary of the barracks.
"The safety of members of the public, including passing motorists, is our prime concern and therefore all security precautions must be taken to protect members of the public until we find out exactly what has occurred."
A spokesperson for Catterick Garrison has told the inquiry was police-led and did not have any information about how close the explosion was to the barracks.
On the Ministry of Defence (MoD) website, Catterick Garrison is described as the army's "largest training establishment", covering around 2,400 acres (971 hectares) and 20,000 acres (8,094 hectares) of training land. It is located only a few miles from the A1 and also includes the outstations of Ripon, Dishforth and Topcliffe.
Britain has terrorism threat level had been raised to second highest level of 'severe' since August, implicating that the risk of an attack is considered highly likely to occur. Since then dozens of terror suspects have been arrested through properly planned monitoring and special raids to counter the threat.
Article viewed on Oye! Times at www.oyetimes.com.