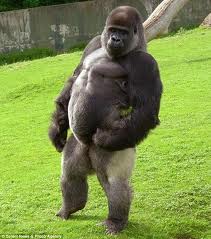 This article was last updated on April 16, 2022
Canada:

Oye! Times readers Get FREE $30 to spend on Amazon, Walmart…
USA:

Oye! Times readers Get FREE $30 to spend on Amazon, Walmart…

A 21 year-old silverback western lowland gorilla called Ambam at the Port Lympane Wild Animal Park in Kent, England has drawn a lot of attention to himself and the park due to his walking upright. While such a practice is not unknown for gorillas, Ambam is doing this with a degree of consistency which makes him quite unusual. Zookeepers have conjectured that the animal is trying to see if there may be food on the way and staying upright gives him a better view of what may be happening outside of his enclosure.
Gorilla keeper Phil Ridges explains:
Ambam was hand raised for a few months when he was a year old because he became very ill and as a last resort he had to be taken away from his mother Shumba. He came over to port Lympne when he was 7 or 8 years old. He is our biggest gorilla at around 220kg.
Ambam's father Bitam used to display the same behaviour if he had handfuls of food to carry. Ambam also has a full sister, Tamba, and a half sister at Howletts, who also sometimes stand and walk in the same way. All gorillas can do it to some extent but we haven't got any who do it like Ambam and he is quite a celebrity at the park.
We think he might use it to get a height advantage to look over the wall when keepers come to feed him and standing up can also help him in looking for food generally in his enclosure as it gives him a better vantage point. Ambam can also carry a lot more food if he stands and uses both hands and walking on two feet also means he doesn't get his hands wet when it is raining!'
YouTube: Gorilla walks upright like a human – Jan 28/2011
http://www.youtube.com/watch?v=mzit_1oxeLo
There are 2 main species of gorillas: the Western Gorilla and the Eastern Gorilla and both are listed as endangered species. The Port Lympane Wild Animal Park is run by the Aspinall Foundation which is working to not just protect these endangered animals, but to breed them and return them to the wild. The About page shows:
The Aspinall Foundation is a world leader in animal husbandry and conservation and has to date returned gorillas, black rhino, Przewalski's horses, cape buffalo, ocelots, and pythons to protected areas of their ancestral homelands. We also manage two African gorilla rescue and rehabilitation projects situated in approximately one million acres of rainforest in Congo & Gabon, as well as a programme to protect one of the most threatened of all lemur species, the Greater Bamboo Lemur, in Madagascar. The Aspinall Foundation also contributes to several other conservation projects around the world.
The Aspinall Foundation Mission:
John Aspinall started his famous animal collection in 1957 when he bought Howletts Wild Animal Park. In 1973 he bought Port Lympne Wild Animal Park to help house the growing groups of animals. Today the two wild animal parks are home to over 1000 animals and 90 different species. Now through The Aspinall Foundation, a registered charity, we work to ensure that the late John Aspinall's innovative work in protecting and breeding wild animals should continue. As well as the two wild animal parks in Kent, The Aspinall Foundation manages two gorilla rescue and rehabilitation projects in central African countries of Gabon and Congo, where we have successfully reintroduced over 50 gorillas. As well as projects being developed in Indonesia and Madagascar.
Of course, for those of us who may just remember the sixties, the phrase "walk like a man" evokes a popular song by Frankie Valli and the Four Seasons. Of course, somebody couldn't resist tying the two things together, the song and a celebrity walking gorilla.
YouTube: Gorilla: Walk Like A Man – Jan 28/2011
http://www.youtube.com/watch?v=xHEB3FVkRgA
Click HERE to read more from William Belle.
References
The Aspinall Foundation
Gorilla Walks Like a Man
Wikipedia: Gorilla
You can publish this article on your website as long as you provide a link back to this page.