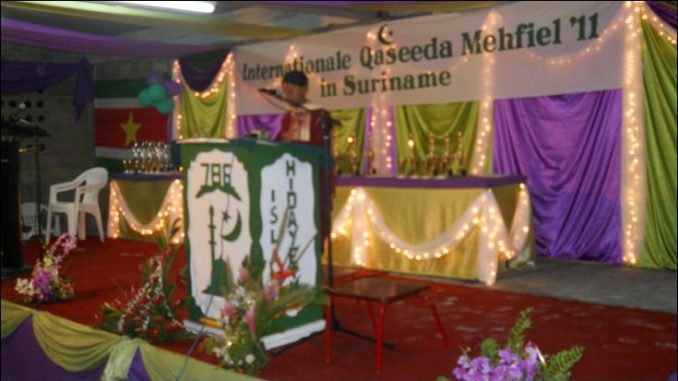 Hundreds of Overseas Participants / Guests expected
The International Qaseeda Mehfil 2012, the premier cultural activity of the Muslim community, returns to be staged in Guyana on April 6 and April 8, 2012, at venues to be announced shortly. This event is the premier activity in the celebration and promotion of Islamic Culture over the decades and it has been getting bigger and bigger each year. So far, it has been hosted each year in either Guyana, Trinidad & Tobago or Suriname. This year's event was held in Suriname and next year, the event returns to Guyana. Guyana last hosted the event in 2009. Already plans are underway to make this event one of the biggest in its history.
Participants are already confirmed from Suriname, Guyana, Trinidad & Tobago, United States of America, England, Canada, Pakistan, India, Holland and Syria. The event is expected to attract hundreds of overseas visitors from the countries named and other countries have indicated their intentions to participate.
A Secretariat has been established for the International Qaseeda Committee at the Anna Catherina Islamic Complex as well as a website will shortly be created.
Qaseeda is the singing of songs in praise of the Holy Prophet Muhammad (SAS) and the Guyana United Sadr Islamic Anjuman, one of the partners in this event, was the first organization to have organized such competitions in the past. Thereafter, other organizations followed.
Also expected for the event, is an international Qaseeda singer, whose presence is being negotiated at this time.
The event will be held in four categories : Male and Female, Senior and Junior.