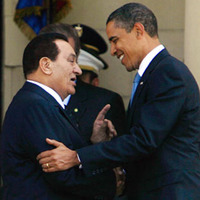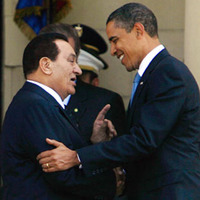 I thought I'd take another look at one of the reasons why many world leaders are (or should be) concerned about the recent unrest in Egypt.
Egypt has a very unique and strategically important place in the world's energy markets and security.
The importance of replacing the Mubarek regime (if or when that happens) with a Western-friendly and stable regime is critical to the economic stability of both its neighbouring nations and the remainder of the world.
Let's look at two of Egypt's energy issues:
1.) Oil and Natural Gas Production and Consumption:
Although it tends to fly under the radar as one of the world's hydrocarbon producing nations, Egypt is a rather significant producer of oil and natural gas.
Egypt is currently producing 660,000 BOPD, down from 935,000 BOPD in 1996. Dropping oil production has been offset by rising natural gas production and Egypt is actually an important exporter of both natural gas and liquefied natural gas (LNG) to Europe, Asia, the Americas and other Middle East countries.
a.)
Oil:
Egypt's proven oil reserves stand at 4.4 billion barrels, up from estimated reserves of 3.7 billion barrels in 2010. Total daily oil production was 660,000 barrels with total consumption of 710,000 BOPD necessitating imports of approximately 50,000 BOPD.
Here is a graph showing Egypt's production and consumption of oil since 1960:

Notice the rise in overall consumption (black line) and the drop in exports (green bars). To offset the growth in imports, and in light of growing natural gas production, the Egyptian government is promoting the use of natural gas by both industrial and residential consumers.
As well, the Egyptian government is considering oil demand reduction by lifting the subsidized prices of petroleum products, however, this is an extremely sensitive political issue that will likely lead to further unrest once fully implemented. As oil production levels decline, attempts have been made by several oil companies to implement enhanced oil recovery techniques (EOR) in an effort to stimulate further oil production from mature fields. Most of Egypt's oil production comes from fields in the Gulf of Suez, the Nile Delta, the Eastern and Western Deserts and the Mediterranean Sea. Interestingly enough, although Egypt required a small volume of imported oil to meet its demands, it did export an average of 145,000 BOPD in 2010, mainly to India, Italy and the United States. Egypt is also home to the largest refinery sector in Africa with the capability to process 975,000 BOPD. Should Egypt's refinery production be interrupted for long periods of time, it will have a marked impact on its customers. As a side note, in May of 2010, a consortium of Chinese companies signed a memorandum of understanding to build an oil refinery at a cost of $2 billion with output being used to satisfy local demand and for export to China.
b.)
Natural Gas:
Egypt's natural gas reserves are now estimated to be 77 trillion cubic feet (Tcf), up from last year's estimate of 58.5 Tcf. This places Egypt's natural gas reserves in third place in Africa after Nigeria and Algeria. In 2009, Egypt produced 2.21 Tcf and consumed 1.57 Tcf with the excess being exported to Europe and the Mediterranean. Here is a graph showing the increase in both natural gas production and exports over the past 10 years:

Most of Egypt's natural gas reserves and production are found in the Mediterranean and the Nile Delta, however, exploration is taking place throughout the country.
In 2009, Egypt exported 650 BCF of natural gas mostly in the form of LNG. The remainder was exported using the Arab Gas Pipeline which transported gas to Lebanon, Syria, Jordan and Israel. Egypt's LNG exports go to the United States (35 percent of Egypt's output), Spain (32 percent of Egypt's output) and France (13 percent of Egypt's output). Increasing domestic demand for natural gas means that it is unlikely that Egypt's exports will increase over the long term.
2.) The Suez Canal and the SUMED Pipeline:
The location of the Suez Canal in Egypt is of particular strategic importance to the country.
The Suez Canal was first opened in 1869 and, since its establishment in 1956, is owned and operated by the Suez Canal Authority (SCA) under the authority of the Egyptian government. After several expansions, the Suez Canal is now 120 miles long and approximately 26 feet deep. The single lane canal, which has no system of locks, connects the Red Sea to the Mediterranean Sea allows the shipping of oil from the Middle East to Europe, reducing the length of the voyage by over 6000 miles (or 15 days to Europe) in comparison to shipping around the south tip of Africa. On a daily basis, roughly 2 million barrels of oil transit through the canal, 5 percent of the world's tanker shipped oil. Here is a map showing the Suez Canal:

The
Suez-Mediterranean (SUMED)
pipeline is an alternate means of shipping oil for tankers that are too large to use the Suez Canal. The SUMED pipeline daily shipping capacity is 2.3 million barrels of oil per day. Here is a map showing the location of the SUMED pipeline:

Here is a chart showing how important the Suez Canal and SUMED pipeline are to the world's energy consumers:

Note the drop in volume of oil shipped through the canal and pipeline in 2008 and 2009.
This drop is due, in part, to changing dynamics in the world's oil markets as Asian nations demand a greater volume of oil produced by West African nations, negating the need to traverse through the Red and Mediterranean Seas since these tankers travel directly to Asian around the Cape of Good Hope. As well, increased levels of piracy in the area off the Horn of Africa have led many carriers to avoid traveling through the Suez Canal.
On several levels, political stability in Egypt is critical to the African continent, its Middle East neighbours and various nations around the world that benefit from its exported natural gas, LNGs and refined products.
As well, and perhaps more importantly, the geographic location of both the Suez Canal and the SUMED pipeline form a massive logistical chokepoint that, if controlled by forces unfriendly to the West, could impact the timely delivery of oil to the Western world.

Click HERE to read more of Glen Asher's columns.

Article viewed at: Oye! Times at www.oyetimes.com