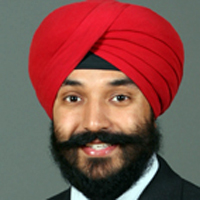 This article was last updated on April 16, 2022

Navdeep Bains, the federal Liberal Candidate and incumbent Member of Parliament for Mississauga-Brampton South opened his campaign office to the community today. Bains was out knocking doors within hours of the election call and is ready to fight for Canadian families.
"In this election Canadians have a clear choice" said Mr. Bains. "Stephen Harper's record of waste, contempt and abuse of power or a Liberal Government focused on homecare, accessible education and secure pensions. I'm fighting for middle class families not fighter jets".
Bains was first elected in 2004 and was subsequently re-elected in 2006 and 2008. A former Parliamentary Secretary to Prime Minister Martin, Bains currently serves as Critic for Small Business and is responsible for the Liberal Party Platform in this election.
You can publish this article on your website as long as you provide a link back to this page.