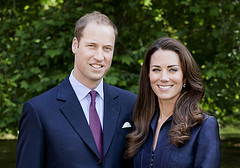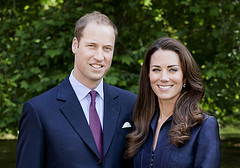 Canada Day, day 2 of the royal visit of William Kate, their first tour abroad. The Duke and Duchess of Cambridge attended Canada Day celebrations at Parliament Hill in Ottawa witnessing the swearing in of 25 new Canadian citizens. Those swearing the oath of allegiance to the Queen included Chinese, Cubans, French, Greeks, Haitians, Romanians and even Madagascan residents.
Apparently the royal couple received a royal welcome from the crowd of thousands awaiting their arrival on Parliament Hill. Some had apparently gone so far as to camp out on the hill overnight to ensure they had a place up close and personal in the hope of speaking or shaking hands with the royal couple.
Reuters estimated the crowd at 300,000 all out to celebrate Canada's 144th birthday with the most special of royal guests. Reuters said, in talking about the Duke of Cambridge addressing the crowd: He was interrupted by whoops from the crowd each time he mentioned his wife, the former Kate Middleton. It would seem the public has taken a fancy to Kate Middleton. Just about every media outlet is feeding the frenzy for information about the Duchess, what she says, what she wears, and where she is.
This Canada Day would have been the 50th birthday of William's mother, Diana, the Princess of Wales. She was born on July 1, 1961 and died in a Paris car accident on August 31, 1997.
Uploaded by telegraphtv on Jul 1, 2011
Duchess of Cambridge dresses to honour Canada
The Duchess of Cambridge has worn the national colours of red and white as she helps mark Canada Day at a citizenship ceremony in Ottawa.
Published on Jun 30, 2011 by AssociatedPress
Canadian Crowds Adore Prince William, Kate
Prince William and Kate began their first official trip abroad Thursday laying a wreath at Canada's National War Memorial as excited onlookers screamed with delight and showered the young royals with flowers and gifts. (June 30)
Uploaded by CdnHeritage on Jun 30, 2011
2011 Royal Tour
Arrival of Their Royal Highnesses The Duke and Duchess of Cambridge in Ottawa, Canada
The CBC report William and Kate's itinerary as follows:
June 30 —Their first official function is laying a wreath at the Tomb of the Unknown Soldier at the National War Memorial. They will then head to Rideau Hall where they will be greeted by Prime Minister Stephen Harper and the Governor General and receive full military honours including a 21-gun salute.There will be a youth barbecue and reception in the garden of Government House.
July 1 — They will attend a citizenship ceremony at the Museum of Civilization and then it's off to Parliament Hill for Canada Day celebrations, where William will briefly address the crowd.
July 2 — After a tree planting at Rideau Hall and a reception for war veterans and war brides, the couple depart for Montreal. There, they will visit Saint-Justine Hospital, a facility for young cancer patients, and go to the Institut de tourism et d'hotelerie where they will participate in a class of chefs in training. The students will then serve them a private dinner. Amid a fireworks competition in the harbour, the couple board HMCS Montreal for the overnight journey to Quebec City.
July 3 — The couple will meet the Royal 22nd Regiment, the Van Doos, who have just returned from Afghanistan. Expect an inspection of the guard and a walkabout. They then head to the Citadel and after some down time depart for Levi Fort to participate in a fair. They depart by plane to Charlottetown where they will stay at Government House.
July 4 — In the morning, they will tour Province House, and be greeted by the Fathers of Confederation on the steps. There will be a welcome by Premier Robert Ghiz and then a walkabout on George Street. Then they will head to Dalvay by the Sea. After a brief rest, they attend an outdoor reception complete with BBQ, dragon boat race and music. They will be greeted by Anne of Green Gables and do a walkabout. They depart for Summerside by helicopter where they will see a search and rescue demonstration and attend a reception for fishermen rescued by such teams. They leave for Yellowknife.
July 5 — At Somba Ke Civic Plaza, the couple will be welcomed by the premier and aboriginal leaders in a ceremony that includes prayer and drum songs. They will do a walkabout with aboriginal athletic events. At a Territorial Legislature for Youth Parliament event, young people from different ridings will come to the legislature and try to solve a problem of their choosing and report their results to William. The couple then travel by sea plane to Blatchford Lodge to meet with Canadian Rangers. After walking to Dechinta Centre, which tries to recapture the aboriginal language and culture for young people, they return to Yellowknife and retire for the night.
July 6 —The couple depart for Calgary and have the day to themselves in a private location.
July 7 — After visiting Foothills Hospital, they head to the BMO Centre for a reception hosted by Harper and his wife. There will be a gift presentation from the government of Canada to the couple and a speech by Harper.
July 8 — The couple will attend the launch of the Calgary Stampede parade and watch part of the parade. Then they visit ENMAX Conservatory at the Calgary Zoo. Their final stop is Challenger Rotary Park where William will do an inspection of the guard with full military honours.
They depart Calgary airport at 1:40 MT for Los Angeles to start their U.S. tour.
StarPulse reports on the California leg of their North American tour.
July 8: The couple will arrive from Canada and go to the UKTI reception at the Beverly Hilton. They will then head over to the Consular General's LA home for a high-profile meet-and-greet with politicians and VIPs.
July 9: They will head to Santa Barbara for a polo match benefiting American Friends of the Foundation of Prince William and Prince Harry. William will play polo and they will both be handing out prizes.
That night, they will attend the BAFTA reception at the Belasco Theatre and plan to walk the red carpet at the star-studded event. Prince William is the president of BAFTA and will make a short speech.
July 10: They will visit Inner City Arts in Los Angeles, which is a program that helps homeless and disadvantaged children. Their evening plans include attending a war veterans event at Sony Studios that helps strengthen the bond between UK and US armed forces.
References
Government of Canada
Government of Canada
Official Photo and Message of the 2011 Royal Tour
Message from His Royal Highness The Duke of Cambridge
"Catherine and I are very much looking forward to our Tour of Canada. We hope to be able to meet as many people as possible and to see as much of the extraordinary and diverse country as we can", said The Duke of Cambridge. "I have wonderful memories from my last times in Canada, and as such we consider it a great privilege to have been invited to Canada for our first joint Tour."
Wikipedia: Prince William, Duke of Cambridge
Prince William, Duke of Cambridge (William Arthur Philip Louis; born 21 June 1982) is the elder son of Charles, Prince of Wales, and Diana, Princess of Wales, and third eldest grandchild of Queen Elizabeth II and Prince Philip, Duke of Edinburgh.[2] He is second in the line of succession, behind his father, to the thrones of sixteen independent sovereign states known as the Commonwealth realms: the United Kingdom, Canada, Australia, New Zealand, Jamaica, Barbados, the Bahamas, Grenada, Papua New Guinea, the Solomon Islands, Tuvalu, Saint Lucia, Saint Vincent and the Grenadines, Belize, Antigua and Barbuda, and Saint Kitts and Nevis. Consequently, he is also second in line, again behind his father, to the position of Head of the Commonwealth (figurehead of the 54-member Commonwealth of Nations) and, in England only, Supreme Governor of the Church of England.
Wikipedia: Catherine, Duchess of Cambridge
Catherine, Duchess of Cambridge (born Catherine Elizabeth Middleton on 9 January 1982; popularly known as "Kate") is the wife of Prince William, Duke of Cambridge. William is second in line to the thrones of the sixteen Commonwealth realms, and if he becomes king, she would become queen consort.
Click HERE to read more from William Belle
Article viewed at: Oye! Times at www.oyetimes.com