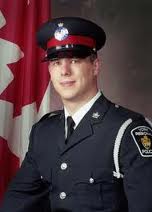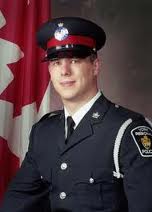 The Ray Twinney Recreational Complex in the Town of Newmarket was the scene of final words to Officer Styles who died on June 28. He would have been 33 years old this past Sunday. Thousands gathered to mourn this loss to the community while many more tuned in to local Toronto televisions and computers to watch the proceedings live.
Melissa Styles, his wife, spoke in the hall before thousands of officers. "Garrett, you were my first and only love. Thank you so much for making me a mother and giving me something to hold onto now that you are gone."
"Now I am in pieces. But I will put myself back together for our children, because I know that was what you would want me to do." The couple were only wed five years ago in March. Mrs. Styles sat in the front row with 2-year-old Meredith while cradling her 9-week-old son Nolan.
A procession to the ceremony started at 10:30am and the route was lined by large crowds. About 8,000 officers were in attendance to pay tribute to their fallen comrade along with contingents from the armed forces, firefighters and EMS workers.
What happened?
On June 28, Officer Styles, working alone, stopped a 2005 Dodge Caravan. He discovered several teenagers inside and in fact, the van was being driven by a 15-year old boy. Styles reached in to grab the keys but the van sped off dragging the constable for 300 metres. The driver lost control of the vehicle and it flipped over pinning the officer underneath it. He later died in a Toronto Hospital.
It is reported that there were a total of four young people in the van. The 15-year-old driver can't be identified however he is supposedly paralyzed below the waist and is now facing a charge of first-degree murder. He could face a maximum sentence of life behind bars with no possibility of parole for 10 years. He is slated to make his first court appearance Thursday.
This is the second funeral of an Ontario officer killed in the line of duty this year. In January, Toronto police Sgt. Ryan Russell died while trying to stop a stolen snowplow. Det. Const. Robert Plunkett was the last York Regional Police constable killed when a stolen car pinned the 42 year old officer against a tree in 2007.
The Globe and Mail: pictorial: Thousands pay respect to a fallen officer
A trust fund for Constable Styles' family has been set up and donations can be sent to:
Police Credit Union
18025 Yonge Street
Newmarket, L3Y 8C9
The account number is 2000014 and the transit number is 63612. Cheques should be made payable to In Trust for Melissa Styles and can be mailed to the address above or provided in person at any Police Credit Union branch.
York Regional Police: July 5/2011
Constable Garrett Styles
July 3, 1978 – June 28, 2011
You can leave an online message.
Click HERE to read more from William Belle
Article viewed at: Oye! Times at www.oyetimes.com